My Photography - Gold Fish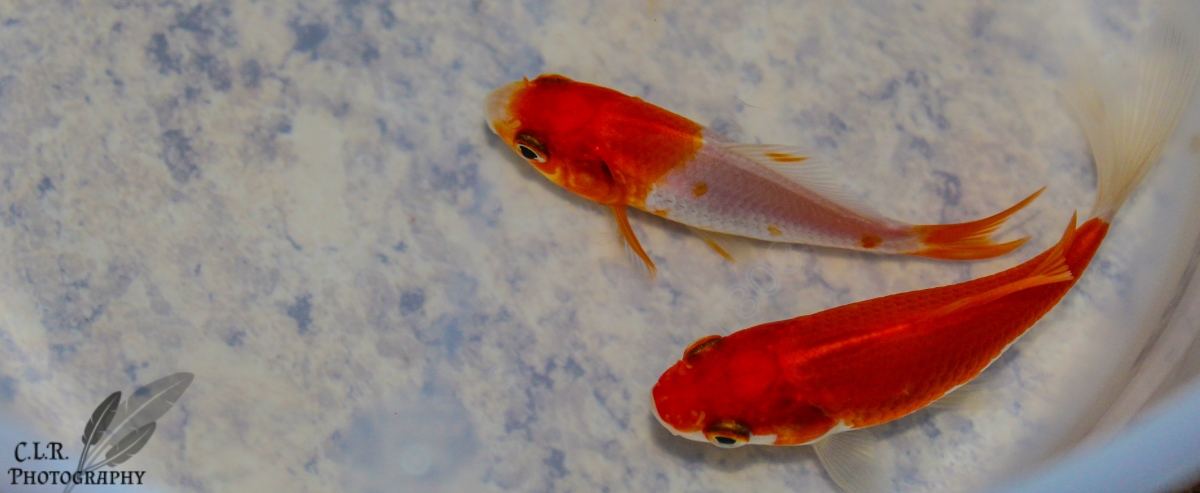 United States
June 14, 2017 12:16pm CST
Last night my mom was switching the fish in her fish tanks. She put the goldfish in the big 50-gallon tank since they will continue to grow. She put the little neons in the little 10 or 20-gallon tank since they stay little. She had them in the big round white ice cream containers so I decided to take some photos of them. The white in they were in made a great reflector and made the photos really clear and well lit. I took several but I only liked how two of them turned out. This is the first one. It will take me a while to get the second posted because I have to relearn how to take things out of the background so I can remove the other fish's tail. I am sure I will get it done tomorrow since I have nothing to do on Thursday.
9 responses

• United States
14 Jun 17
This is a beautiful photo Casey. I would even like it for a screen saver.


• United States
14 Jun 17
Thank you. That is a really big compliment. You are welcome to use it as one if you can figure out how to save it from the post. I don't mind at all. I like sharing what I am passionate about.

• United States
14 Jun 17
@CaseyRoss9966
Oh thanks well then I will Casey..lets see if I can figure it



• United States
14 Jun 17
@CaseyRoss9966
I got it!!! Its amazing.

Thanks so much I will try to take a photo of your photo to show you haha




• United States
14 Jun 17
I love neon fish. Never really liked goldfish.

• United States
14 Jun 17
I don't either. They get too big most of the time and multiple way too fast. The color and markings on these look nice though.

• United States
14 Jun 17

• Banks, Oregon
14 Jun 17
Very nice picture of the Goldfish there.

• Hartford, Connecticut
15 Jun 17
That is an awesome shot.. I always take plenty of picture of my subject and when going through them always seem to just find one or two that really stand out to me. on very rare occasions I get a good subject and good lighting etc and they all turn out pretty good.. I had that with a few subjects, a chipmunk, a Woodchuck , A Great Blue Heron (with my old camera.. which If I had my new one would have turned out way better) And I had another session with a squirrel that I liked too.. I have taken a few with people and they have come out pretty good too., I just don't tend to hang out with them as much.. lol if you hit the right arrow button on the pic.. you can see the rest of the shots i was able to get of this adorable chipmunk

Photo by @ChrisTinaShaskus

• United States
15 Jun 17
Those photos are very lovely. I love the one of the Chipmunk. I can't wait to get my new lens so I can take better close up photos. How does that website work for you with selling your photos? I am looking to find a way to earn some more money and I have tons of photos.

• Hartford, Connecticut
16 Jun 17
@CaseyRoss9966
I just joined almost a year now.. and I have sold one photo so far. It takes a while for them to review your photos and make them publicly for sale, and they pick the best ones and they are also offered for sale through Getty Images. I would say it's a great place to start. They community is really cool and they offer lots of tips etc. for picture taking and for making money with your pics. They pay thru paypal and you don't have to have a minimum amount.

• Los Angeles, California
14 Jun 17
The photo almost looks like a realistic painting.

• United States
14 Jun 17
While taking the photos I was thinking about how the koi fish in drawings/paintings are positioned. It reminds me of the paintings of koi fish on the walls of some Chinese restaurant.

• Canada
14 Jun 17
That's a great photo. The fish look almost translucent.

• United States
14 Jun 17
Thank you. When i was takimg the photos I was thinkimg of the drawings/painting of Koi/gold fish that you always see on the walls in Chinese restaurants.

• United States
14 Jun 17
Thank you. I love how vibrant they look and the markings on them.