Don't Let the Masks Fool You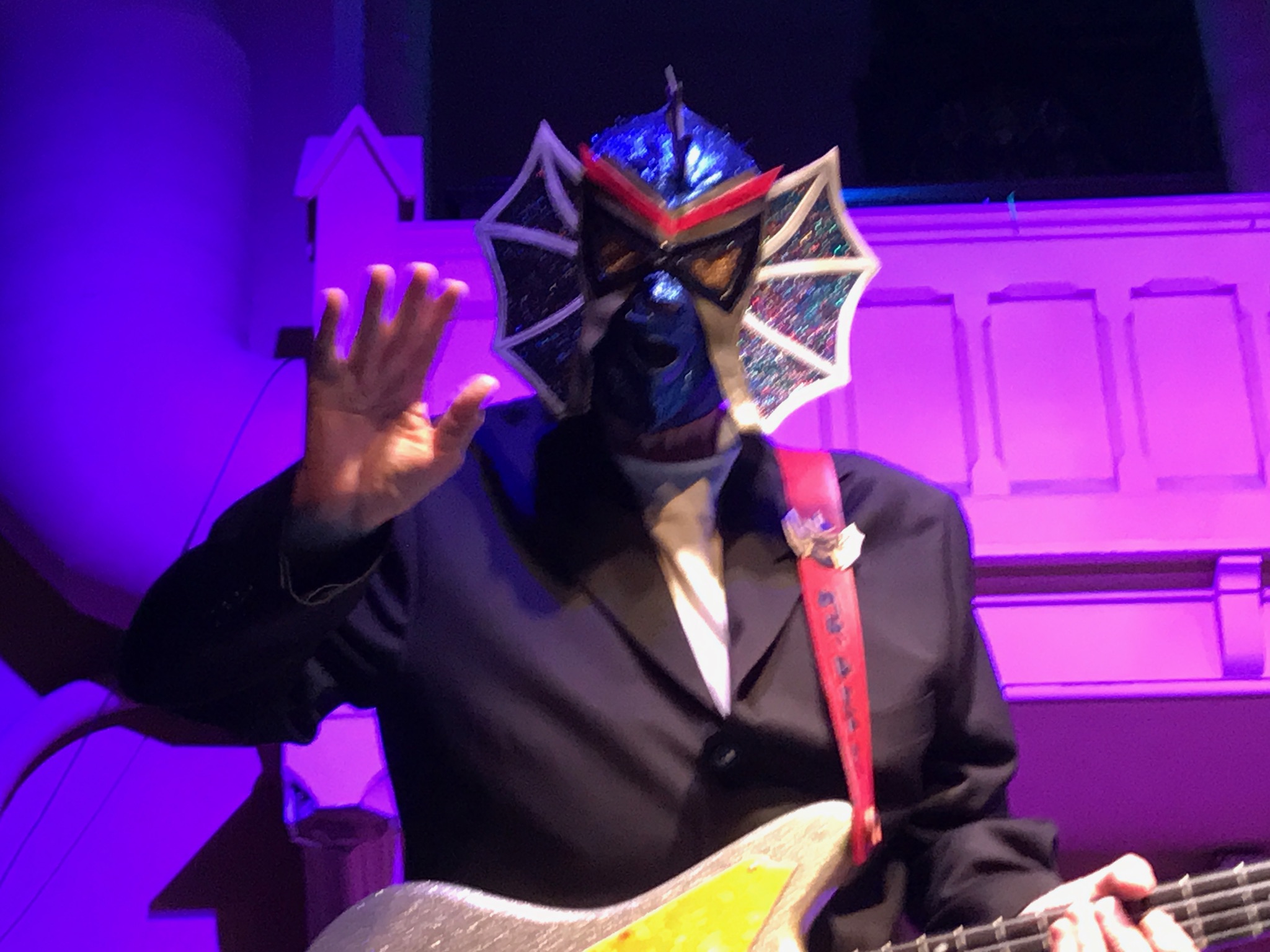 United States
June 30, 2017 9:33pm CST
The halfway point of the year closed out with concert number 15 for me. This was a blast, featuring two favorites and a big surprise for me at the Southgate House Revival in Newport, Kentucky. The two favorites are Marshall Crenshaw, the great singer/songwriter, and instrumental surf band Los Straitjackets. More about them in a moment. The surprise came with the opening act, Cincinnati's Psychodots. Recently I mentioned Andian Belew, King Crimson guitarist, was from northern Kentucky to @teamfreak16 . One thing led to another and I mentioned (and posted a song by) the Bears, a band that featured Belew. Well, guess what: it turns out that Psychodots is the Bears, just without Belew. How cool is that? A friend of mine, who lives in Cincinnati, told me they are "local legends." Their set was good, and the audience was very receptive. Los Straitjackets began the headlining act by playing some terrific surf music. It's really easy to take this guys as a joke because they wear lucha libre masks onstage and are forever joking. Don't let the masks fool you, though: this quartet is absolutely stunning. Hey, they took the Hollies' song, "Bus Stop," and turned it into a surf song. As adept as they are in commanding the audience when they feature their instrumentals, they are equally to the task in backing the featured headliner. This is the second time I've seen them "back" a name act (the other time was Nick Lowe...and, by the way, there's a new album out, What's So Funny 'Bout Peace, Love, and Los Straitjackets, which features Lowe), and you'd never think they weren't the original musicians. As Marshall Crenshaw is "known" outside of his music as playing Buddy Holly in the film La Bamba, he always plays a Buddy Holly song in the set. It's not always the "obvious" songs, either: last night (as when I saw him in January), he began with "Crying, Waiting, Hoping" (okay, maybe it is obvious because that's the song he did in La Bamba). He also played an instrumental with Los Straitjackets. Sadly, there just wasn't enough time to do beyond a slight skim of Crenshaw's 35-year career (ouch, does that make me feel old), but he mixed songs from various eras of his career, including a couple of new songs and even worked in a cover of "2541" by Grant Hart. The encore began with Los Straitjackets playing the theme to Batman in tribute to Adam West, who passed away earlier in the month. Crenshaw then returned and closed out the fun and rocking show with the band. It was a superb night in the shadows of the Queen City.
3 responses

• Denver, Colorado
2 Jul 17
Damn. Sounds like a great show.

• Los Angeles, California
1 Jul 17
Another great musical evening for you!