Updated Picture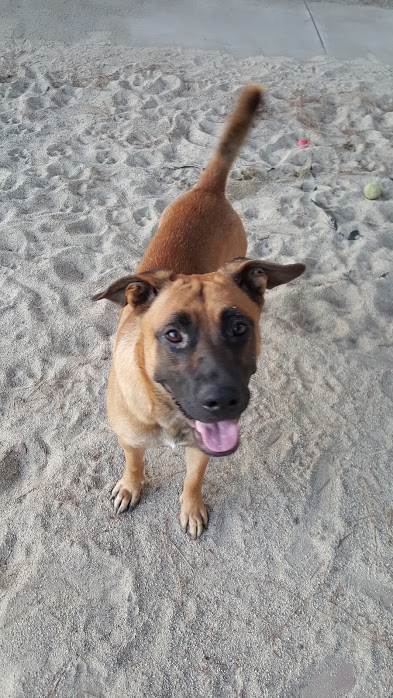 Redlands, California
July 2, 2017 6:39am CST
Had my sister send me a couple of new photos of Brooklyn. The other was old where she was a puppy. It is hard to tell what she is because she has baby face. I love this one because shows her personality and she has a big one when she is not scared or moody. Boy, she gets moody when things do not go her way. Wants to go for a walk, sorry Miss Brooklyn not today. Wants to play ball, sorry Miss Brooklyn not right now. OK, I will lay down and pout and don't you dare try to pet me. She is so funny and makes me laugh, even when she is moody. It is so hard to tell she is 4 here and her puppy picture where she is 9 months. She ages well. Damn has it already been 4 years? Time goes quick.
6 responses

• United States
2 Jul 17
She is a lovely dog and yes she does have that puppy playful look about her still even though she is 4.

I would pet her and roll around with her. And Kai. And Tristan RIP

• Redlands, California
2 Jul 17
Thanks, and you could not catch her to roll around. She is very allusive. She is definitely a weirdo, the way I like them. Shows the world a better way every day.

• United States
2 Jul 17
@crossbones27
I would like to try see if she'd come to me. Yes well you know I love weirdo too haha


• Redlands, California
2 Jul 17
@TiarasOceanView
Oh, she would come up to you and shake her whole body and give you kisses on the face, but try to grab her and she will do the hokie doke on you.



• Philippines
2 Jul 17
hi, miss brooklyn! i like it. she's smiling/happy/expectant and you can tell her tail is wagging.

• Redlands, California
2 Jul 17
Indeed, she says hi, but hiding under my sisters desk, as they just shot another fire work off and scared the crap out of me.AT 4 in the morning Getting pretty ridiculous. Anyway, she is very happy there and she does not wag her tail, she wags her whole body more or less. My sister and brother call her wiggles. I prefer scrappy. She takes crap from no one and sure did earn Kai's respect that way, who is twice her size. The only dog Tristan ever tolerated and he still bit her head off multiple times. Not really, but think you know what I mean. By the end of his life she could play him like a fiddle. It was the cutest thing you ever would see.

• Philippines
2 Jul 17
@crossbones27
oh, right. fourth of july. i agree, 4am is rude. our current dog was born tailless, so she wags her hips.

• Redlands, California
2 Jul 17
@hereandthere
So funny when they do that. It makes me smile every time. That is some love.


• United States
3 Jul 17
she is a nice looking dog

• Denver, Colorado
3 Jul 17
That is a great photo of her.

• Redlands, California
3 Jul 17
That picture makes me want to go the beach. She would have a ball with the ocean waves. That is our front yard. For some reason sister and brother wanted sand in the front yard. Do not ask me, but does stop the weeds from growing, problem is never can put a garden there now.


• Redlands, California
2 Jul 17
Thanks her picture really does nothing for her, but when you see her in action, pretty amazing dog.