Who remembers Saturday morning cartoons? I do I do!

Richfield, Utah
July 2, 2017 8:54pm CST
As a kid in the 80s, I lived for Saturday morning programming. My favorites were Garfield and friends, Dennis the Menace, The Addams Family cartoon, Bugs Bunny. Then a little later as I got older, it was Saved by the Bell, Saturday morning videos (music videos) then NBA inside stuff. What happened to Saturday morning kids shows? The video below has got the clue.... enjoy!

If you're new, Subscribe! ? http://bit.ly/Subscribe-to-Grunge Back in the day, Saturday morning was the best time of the week. You'd get up early, pour yours...
5 responses

• Malaysia
3 Jul 17
They're still big here in my country, but of course, the old cartoons were much better than the ones they show these days. Sometimes they show the older version of Mickey Mouse and friends cartoons too, I find that very nostalgic


• Richfield, Utah
3 Jul 17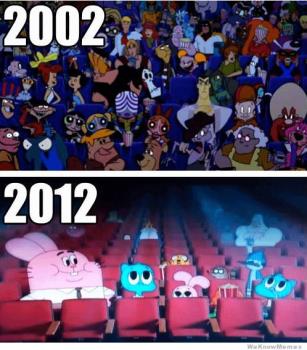 I like the older ones too, this just sums it up

• Malaysia
3 Jul 17


• Richfield, Utah
3 Jul 17
I had bugs bunny everything back in the day:)

• United States
3 Jul 17
@librarygeek1980
i had mostly tweety stuff but some bugs shirts.. that were for boys. Lol

• Anniston, Alabama
3 Jul 17
Yes that was the only day cartoons came on.

• Richfield, Utah
3 Jul 17
Yes it was, although by the 90s, they started coming on in the afternoon

• United States
5 Jul 17
I enjoyed Saturday morning television of the 70's when two guys named Syd and marty Krofft ventured into computer generated imagery which offered laughs and goofiness. Stuff like Electra Woman and Dyna Girl, or Land of the Lost or even H.R. Pufnstuff ! Bugs Bunny is always a favorite also

• Richfield, Utah
5 Jul 17
Awesome! I had forgotten about land of the lost!

• United States
5 Jul 17
@librarygeek1980
who can really forget the perils of Marshall, Will and Holly ???? I grew up with them and Big Alice ! might be the reason I leaned so heavily into research and anthropology and anatomy, biology and chemistry . . .

• Los Angeles, California
3 Jul 17
I am much older than you and Saturday morning cartoons were huge. I would get up early and start watching.

• Richfield, Utah
3 Jul 17
You and the rest of America... lol