Running Away.....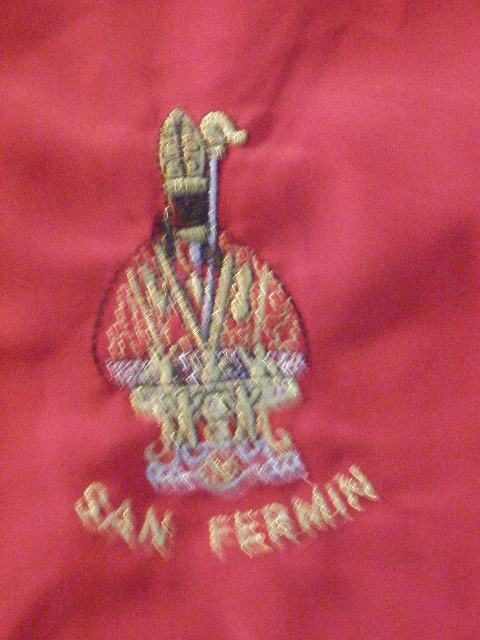 Pamplona, Spain
July 3, 2017 10:45am CST
Flowers bloomed around where he was laid In Amiens did they find him They found him in Amiens Greenest of trees grew around him Sweetest scent of this most beloved person He had gone to teach love to his fellow men There he did meet his end Fast forwarding to today in this Century San Lorenzo hosts your remains Where you are to this very day Celebrations are made in your honour Every year from the 6th of July Your sweet remains are lying there No one will ever forget why. Okay so this is not mean to be sad at all. I have written this very condensed about San Fermin in whose name are celebrated the Fiestas of Pamplona and the Running of the Bulls. However when San Fermin was around there was no running of the Bulls. This is also to honour the people who visit Pamplona every year. Local and nationals go to visit the Church of San Lorenzo where this venerated Saint lies in a kind of Chapel. Pamplona like Amiens is an ancient City. In Amiens San Fermin was venerated after his death and in its Cathedral there are many works of art in which San Fermin is depicted.
5 responses

• United States
3 Jul 17
Thank you for this very informational discussion Lovings. I had not known about this before.

• Pamplona, Spain
3 Jul 17
Did you like it Ocean? Found it a bit hard to get across as its a bit of a touchy one this. I have cut across the religion bit and the actual Fiesta bit as much as I could.




• United States
3 Jul 17
@lovinangelsinstead21
Yes I liked it Lovings



• Pamplona, Spain
3 Jul 17
@TiarasOceanView
He gets lots of visitors to the Chapel around now and I used to live around the Corner from the same Church. However only the privileged ones can get to see the "relics" of him and kiss them and all that. If you get what I mean. Its not what you know its who you know.






• Pamplona, Spain
5 Jul 17
You would love it Dianne there are a few American People living there also although you might not get to meet them as they are all over the place really. I have a few American friends there such as Janet and Laura who went back home. What part did you go to the last time then? Me being nosey.




• United States
5 Jul 17
@lovinangelsinstead21
Lol! We went to Madrid and Barcelona and had such a wonderful time. The food, sites, and people were just lovely.

• Pamplona, Spain
6 Jul 17
@DianneN
Aha, you went to a couple of the best places of all but there are so many other jewels to see here you would never finish seeing them.





• Philippines
7 Jul 17
Nice poem you have for a venerated saint. I can see that there are lots of words that are also being spoken and places like Pamplona's name. That's because we were once colonized by the Spaniards.

• Pamplona, Spain
7 Jul 17
He is our Saint and its his day today of all of them. Spain has a lot of history indeed have a great day ahead.

• Philippines
7 Jul 17


• Green Bay, Wisconsin
5 Jul 17
Who is San Fermin and what did he do? Nice poem about him.


• Green Bay, Wisconsin
5 Jul 17

• Pamplona, Spain
5 Jul 17
@just4him
Thank you I have tried to get it into a very short story or poem if you like as it could have turned into a book. He is much venerated in Pamplona and in Navarra actually the Festivities start tomorrow and his actual day is 7th of July when there will be special services dedicated to him.

• Green Bay, Wisconsin
5 Jul 17


• United States
5 Jul 17
My great grandfather's name is Firmin, he is French and I should have realized that there would be a Saint with that name but I never knew there was, thanks for the info.