Rain at Solitaire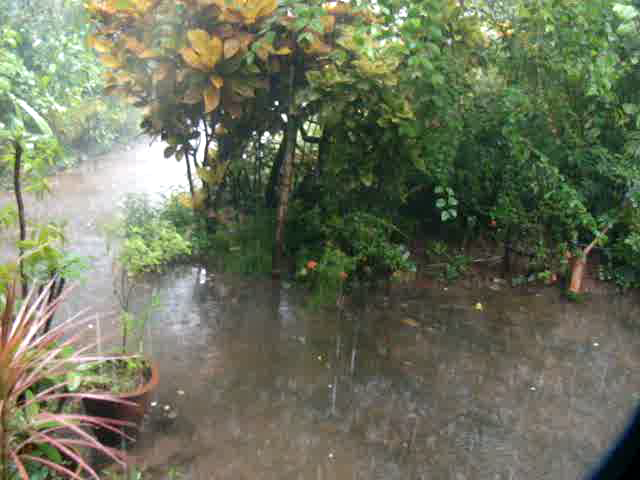 India
July 5, 2017 11:20pm CST
I captured the rain scene in my camera. There was heavy rain this morning but no winds. That is the kind of rain I really enjoy. It rains for short spells giving me time to stroll in the garden. There is plenty to do out there. Have just sown some flowering seeds ofcourse under shelter as the rain will wash them away if kept in the open. How does your garden grow?

This is the kind of rain I like, short and sweet
9 responses

• Hong Kong
6 Jul
@allknowing
Is the garden getting flooded?


• India
6 Jul
While landscaping the garden I have seen to it that there is proper drainage and so no flooding.

• Hong Kong
6 Jul
@allknowing
That's good to hear!


• Philippines
6 Jul
I have several ornamental and flowering plants in a pot. The backyard soil is not good for gardening due to sand and gravel. Been tried to plant some veggies a few times but didn't grow well, so I stopped.

• India
6 Jul
Unless the soil condition is improved you will not get results. You can have your own compost with wet and dry garbage.

• Philippines
6 Jul
@allknowing
I will, when I have more spare time


• United States
6 Jul
Does it get hotter after it rains where you live? "Cooling showers" don't always cool things down in the summer here.

• India
6 Jul
Yes sit does but the rains cool the place somewhat.


• India
7 Jul
I like rains but in moderation.

• Guangzhou, China
7 Jul
@allknowing
At least it will not be so hot with the rain.

• India
7 Jul
@youless
Actually it is the summer season here but when it rains it is cool.

• United States
6 Jul
What are you growing in your garden this year? That scene looks very restful, but plants need sunshine too, lol. My garden has suffered this year due to first one thing then another. The perennials are making it okay and I did manage to get a few more herbs and flowers planted. Today I had a small handful of blueberries from my blueberry bush, they were yummy. Last year it yielded only three or four berries. I guess it takes time for the plant to mature enough to be very productive.

• India
6 Jul
As I have mentioned in my post we get short spells of rain and so the plants do get sunshine (lol) I mostly grow flowers. I have several fruit trees that do not need maintenance.

• United States
6 Jul
@allknowing
India is a big place. Do you get the monsoons where you live?

• India
6 Jul


• India
6 Jul
Trimming does so much to a garden


• India
12 Jul
The good thing is there is no breeze

• Roseburg, Oregon
6 Jul
Right now we have half of he things that we planted coming up.

• India
6 Jul
I remember your saying that you would start your gardening and am happy you are already at it

• India
7 Jul
This undisturbed rain without winds and short spells is what I look forward to.