This alien wants to be the alpha male.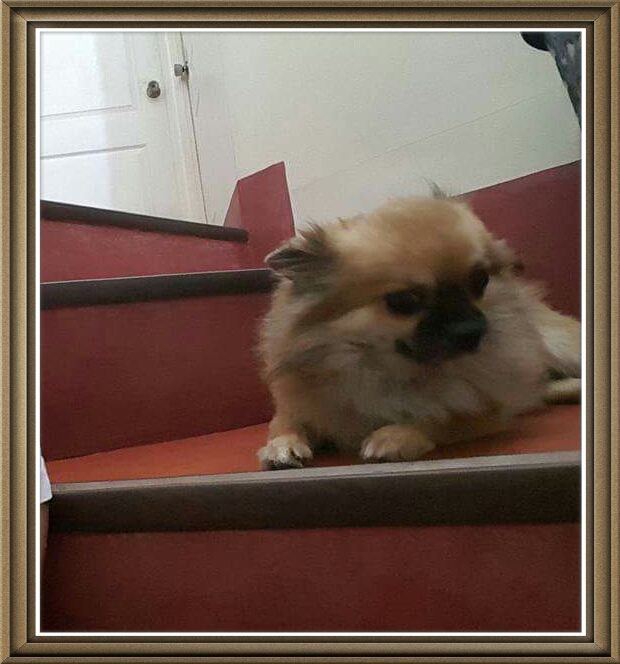 Philippines
July 11, 2017 7:51am CST
My kid brother and his daughter are home, and so, their dog, the one that bit me, is also here. Sydney, the Chihuahua is in heat, male version, again. He keeps on smelling the behind of our 2 female puppies, and even Macy the female Japanese Spitz, and Trixie, our local-bred mutt. Of course, Chibi, our Pomeranian, Zeus, the brother of Darna, and Xander, the other Japanese Spitz keep on barking at Sydney, who is incessantly barking even this night. Twice too that Sydney bit my right foot and once in my left foot yesterday; good thing I injected myself with tetanus anti-toxin the last time they came. Now, this Sydney who we consider a dog alien wants to be the alpha male here at home. You should have seen this afternoon how he barked loudly at Xander, who was quietly staring at him. Xander understands, if I may say. When Sydney cannot provoke him, he bit Xander's right front limb. Right there and then, Xander started to growl and show his teeth, but still Sydney was defiant. Hahaha! So what Xander did was, he called the bluff of Sydney and they had a rumble. I, my son, and my sister had to be the referees so these 2 dogs separate. Sydney is making his own niche here, and I doubt if Xander will be ousted from his seat as the alpha male. You might ask our oldest male dog Thor why he is not the alpha male. It is because Thor is the good dog who minds his own business. He just stared at the rumble and did not even bark.
9 responses


• Philippines
12 Jul
Sydney is as small as Chibi, our Pomeranian, and he cannot even climb behind the puppies (the 4 pups are already big like their aunt Darna). also, Sydney is the pet dog of my niece.

• Switzerland
12 Jul
@ridingbet
I see, my cousin has three Chihuahua, they are annoying dogs, they bark all the time and they bite.

• Philippines
12 Jul
@LadyDuck
Sydney has his own dog food, but he prefers the food i give to our dogs. his eyes, my golly, his eyeballs go out of the eye socket if he barks incessantly.



• United States
11 Jul
That little guy sounds like quite the bully!

• Philippines
12 Jul
yes, he really is a bully, and he is small compared to the Japanese Spitz. i think it is because he thinks he has the better fur? hahaha

• United States
12 Jul
@ridingbet
I had a male chihuahua who was 4.3 pounds, so roughly 2kg. He was a lot more aggressive before I had him neutered, but he never really tried to bite anybody. He would certainly Grump around and scream a little bit at people

• Philippines
12 Jul
@CoralLevang
this Sydney is really an alien bullying dog here.he is out now, from his cage and the room, while the other dogs are outside.

• Hartford, Connecticut
12 Jul
This is another good reason to get male dogs neutered.. they would not be so sexually aggressive.. and have lets fights.. My roommates chihuahua mix is not fixed and does this too.. following my girls around.. he gets my male collie barking. my girls (the sisters) start growling at each other.. and that in turn makes my new 1 1/2 year old puppy - upset and she has started fights with both of the sisters 4 times in the last month or so.. and today she got bit on the leg... all because she doesn't understand that when they are growing they are just communicating.. she is getting freaked out by all the discord.

• Philippines
12 Jul
hahaha! these dogs have their own language, and we humans interpret them according to their actions. right now, my sister is scolding Xander because he is barking at Sydney, who is also growling at him. this Sydney is the alien so he should know where he stands here.



• Hartford, Connecticut
12 Jul
@ridingbet
you bet.. he can't come into a pack as big as yours and think he is the alpha!!

• Philippines
14 Jul
@minx267
i am already having a Sydneyphobia, because i do not like this dog to come near me. at this very hour, Sydney is tied in a chair so close to me, but Sydney is not barking, but playing with a female puppy Paris, and he enjoys it.



• Philippines
12 Jul
I suppose Xander is bigger than Sydney yet Sydney is bullying him.

Really you got bitten twice by Sydney as in his fangs went into you flesh?

• Philippines
12 Jul
yes, my lady. i was seated in front of the desktop with my legs stepping on the supporting wood of the chair, and Sydney was under the chair. i put down my feet and then he bit my right foot twice. when i tried to move away, he bit my left foot. when my brother got home, i told him about the bite, and i was disgusted when he said that Sydney was already injected with anti-rabies vaccine and he bites even his daughter several times.

yes, Xander is bigger than Sydney.

• Philippines
12 Jul
@ridingbet
So, because he is injected with anti-rabies he can bite anyone without cause for alarm, I suppose. But what about the wound it would scar. So Sydney can scare Xander even if he is big. But I suppose Xander isn't scared.


• Philippines
14 Jul
@SIMPLYD
that is what i told our bunso, my lady. not because Sydney is already vaccinated with anti-rabies, it does not mean that he can bite anybody he wants to. his bite in my feet did not produce scars, because these were just like pin pricks. i think it did not reach the subcutaneous fat so blood did not ooze out. Xander is the more reserved alpha male we have. he is royal dog here in our house. this Sydney has popping eyeballs like he has exophthalmus.


• Johannesburg, South Africa
11 Jul
Thor is the wise one
@ridingbet
. I hope Sydney and Xander understand each other now.

• Philippines
12 Jul
yes, Thor is the king. hahaha! Xander, Sydney, including Macy (Xander's sister), and Zeus plus Darna often fight each other.

• Johannesburg, South Africa
12 Jul
@ridingbet
then Thor can really be proud of his good behaviour



• Philippines
15 Jul
@bluesa
yes, and we already maintain him inside our house. he is a dog with 'sedentary lifestyle'. hahaha!



• Philippines
12 Jul
yes, my friend. Thor is the original alpha male until he was neutered and i think all of his libido was gone. like Zeus, Thor is now minding his own business, and he is the ever-good dog we have since before;he understands instructions.

• United States
12 Jul
@ridingbet
Your niece will have her hands full! lol

• Philippines
15 Jul
@DianneN
yes. right no, brother and niece are here, and niece holds Sydney but the dog also growls at her.

• Philippines
11 Jul
I think Thor is a giving dog. He gives chance to his younger dogs.

• Philippines
12 Jul
yes, and i believe Thor "does not stoop down to the other dogs' levels". hahaha!

• Philippines
12 Jul

• Philippines
12 Jul
@jobelbojel
hahaha! really? i will post a latest picture of him. oh, he has a picture in one of my previous discussions.

Yesterday, mighty Thor was making advances again to Macy, who just delivered 4 puppies last December. His testosterone levels are way up high again. I therefore...

• United States
11 Jul
Glad Thor is staying out of that rumble. Sydney seems to be quite a handful.

• Philippines
12 Jul
he is the small but bullying type, my friend. when he barks, Xander stops and stares at him. when Sydney is ignored, he bites the limb of Xander, then they fight.