Hi...friends I came back ...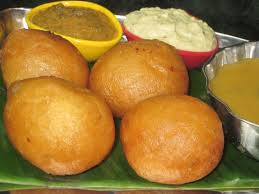 Hyderabad, India
July 11, 2017 8:32am CST
Morning, when I reached the restaurants, the owner of the hotel, was busy eating the pooris he prepared. I generally take some other dish instead of pooris as the curry will not be spicy there without any green chilies. I asked for two pooris and he asked me if I could wait for 5 minutes prepared them right before me. They were very hot and the curry was a different one this day.So I could take two and ordered another Tiffin MYSORE BONDA. I asked for one more but he could not make it as the stuff was exhausted.This was even tastier. I stopped my eating for fear of addicting to many varieties. I ordered for the TAKEAWAY of one plate.He was pleased to hear this as I prefer Take-away very rarely. Have you ever heard about MYSORE BONDA in the Indian restaurants abroad? They will be round in shape and will be quite spongy.
2 responses

• India
11 Jul 17
I like Mysore bonda with coconut chutney