Back from the gym! July 13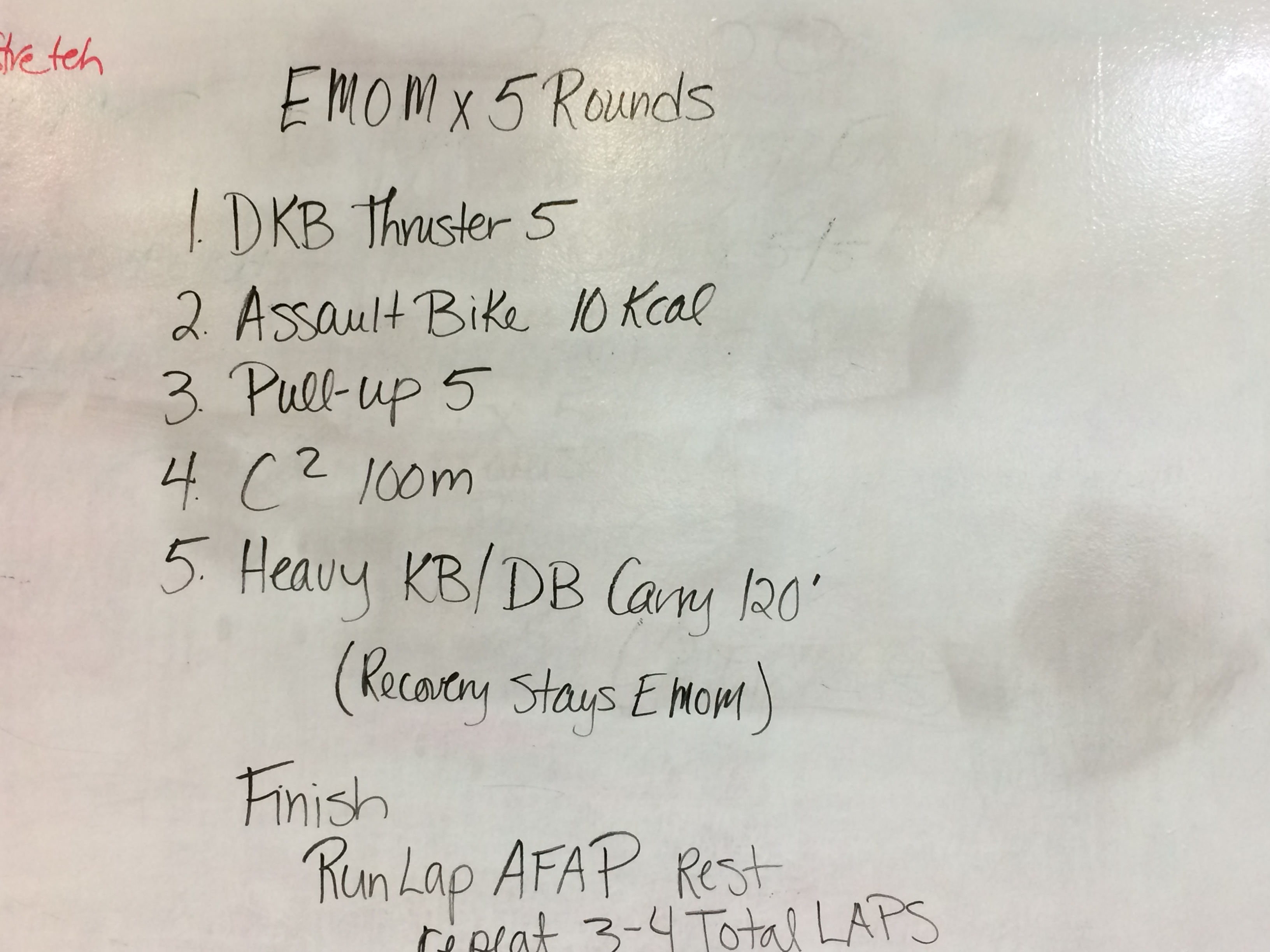 United States
July 13, 2017 6:11pm CST
Tonight's workout was a cardio one. I was glad to see it. I don't like to do too many weight-lifting ones in a row because my body builds muscle very easily and that defeats my ultimate goal of losing weight. It was a 25 minute session with 5 exercises that we did EMOM (every minute on the minute). You have 1 minute to get whatever it is done and, whatever time you don't use up, you have to rest and move to the next spot. If it takes you 30 seconds to do, you have 30 seconds to move/rest. If it takes you 55 seconds, you have 5 seconds to haul a$$ to the next spot and no time to rest. This is what we did: 1) Pull up (5) *I did TRX nose-under rows* 2) C2 rowing machine (100 meters) 3) Heavy double kettlebell farmer carry (I did 2 80 pound kettlebells) 4) Double kettlebell thrusters (I did 2 30 pound kettlebells) 5) Assault bike (10 calories) The workout definitely got our heart rates up! The assault bike took me about 45 seconds to do so I had no time to rest by the time I got to the TRX straps for the rows. Still, it wasn't as brutal as some of the other EMOM workouts that we've done. The finisher was to run 2 fast laps around the building in the 95 degree heat and humidity. I just jogged them because I am not a runner. Still, I finished them. I may go to an 8am class tomorrow morning. Not sure on that one because we have the 8am Strongman workout on Saturday and that one is always tough.
6 responses

• Onaway, Michigan
13 Jul 17
Good workout I am sure you are tired after it all.

• Onaway, Michigan
14 Jul 17
@NJChicaa
With as much as you do in your workouts I agree 2 days break would be good.

• United States
14 Jul 17
@Tina30219

People used to look at me funny when I said that I went to the gym only 3 times a week. I was like "you have no idea". Now I've upped it to 4 times for the summer and it is taking its toll.


• Italy
13 Jul 17
Wow, I would barely walk in humid 95°F.


• Italy
13 Jul 17
@NJChicaa
Yes, doing the whole workout in the heat would be crazy otherwise.

• United States
13 Jul 17
@sabtraversa
it would have been very hard for me with my asthma


• Los Angeles, California
14 Jul 17
Those kettlebell thrusters sound killer. The there's carrying that farmer again!

• United States
14 Jul 17
Thrusters are just a clean/press and then you squat and then press up. You get momentum from going up from the squat to do the press. I probably should have tried for 35 pound bells but I didn't have time to go find them and the 30s were already out. With thrusters you can usually go up with your weights from regular presses. I like kettlebell farmer carries as they are easy to hold. Sometimes we have to hold these barrel things with plates on the end and the grips are very hard to hold onto. It isn't that the weight is heavy, but the grip sucks. I often have to stop halfway to readjust which just pisses me off as it makes me look weak. I think it pissed the men off that I was using the same 80 pound kettlebells that they were.


• United States
13 Jul 17
I would not be able to do any of that. My shoulders would pop.