Maturity Doesn't Come With Age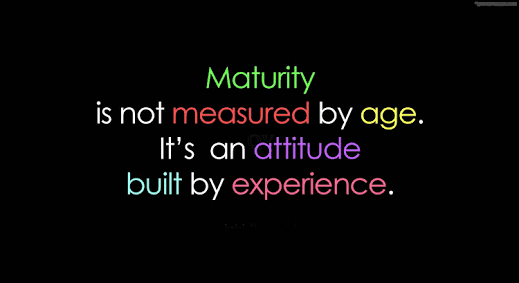 August 15, 2017 1:36am CST
I have met, talked to, and interacted with so many adult persons in my life, unfortunately I have met only a few mature ones. What makes me feel sad about this is, I think there are more mature young people than the older ones This is just based on what I have experienced though. What I consider one characteristics of immaturity are those people who force their beliefs and opinions on you then getting aggravated if you disagree, and I have seen this attitude more with the older adults than the younger ones. What do you say?
7 responses

• Malaysia
15 Aug 17
Honestly speaking, there aren't many mature thinking adults around me either. My sister-in-law, brother-in-law, customers who are older than me at least 12 years or more, they have the childish acts, behavior of 12 year old!. Maybe only a handful are wise old goats living over the hills!

•
15 Aug 17
You seem really frustrated my friend hahaha. But yes, I feel you, instead of gaining wisdom from all their experiences in the world, they did the opposite.

• Lenox, Georgia
16 Aug 17
Maturity is determined by how open we are to learn new things, how much we have learned from experiences we have been through and how much we listen and take good advice. Nothing to do with age.

•
17 Aug 17
I agree and my point was younger people are more open to change and more unashamed of admitting when they're wrong compared to the older ones. I think this is because of the stupid notion that when you're older, you know better. That is just my observation though.

• Rass, Saudi Arabia
15 Aug 17
True... I am 10 years older than my wife but she is more mature than I am. Or maybe i just love to act silly around her, anyways... Maturity is never measured by age....

• Nigeria
15 Aug 17
Age is never maturity. Factors that determines maturity are upbringing, environment, social interaction and exposure. The younger ones are more mature because they opportune to read books and movies that will be build them.

•
15 Aug 17
Yes I agree. Most older ones are parochial thinkers and it could be really hard to reason with them sometimes.

• Nigeria
16 Aug 17
@JeeyanDee
You are right. Sensitivity,reasoning and understanding decrease as the age increases.

•
16 Aug 17
@Mrgana1
When I grow old, I want to be nothing like that because when we do we are supposed to gain wisdom not develop resentment.

• Nigeria
15 Aug 17
Yeah, that's very right... Maturity is not about how old you are... it is determined by your experiences

•
15 Aug 17
Experiences plus how people use those experiences in their daily lives.

• Nigeria
15 Aug 17
@JeeyanDee
Yeah, application of those experiences in daily activities...


•
15 Aug 17
Experience should make a person mature, but others just don't learn from that. It is more about the quality of the experience rather than the quantity I guess.