Confusion, Fear and Neo-Nazis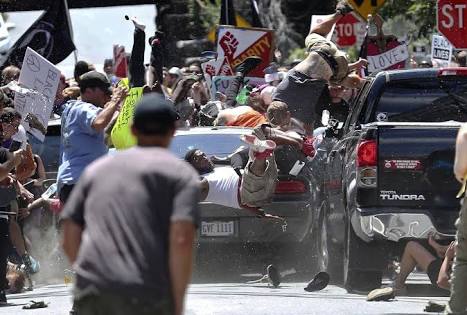 August 16, 2017 9:15pm CST
Unfortunate as it is, whatever happens in America does not stay in America, rather it affects us all. In the midst of all these issues being thrown to their president, the threat of North Korea, another one emerges, the tolerance of white supremacists and neo nazis. There should be no excuses for these ideals. Just the fact that they were waving NAZI flag and doing Hitler salute during the protest should be criticised already. We should be over those ideals now, why bring hatred back? Ok, white lives matter, black lives matter, hell, ALL lives matter. Whatever those groups were fighting for, the point is, the nazi ideology MUST never be tolerated ever again. We already saw the effect of that stupidity. Never again.
6 responses


• India
17 Aug 17
@JeeyanDee
Yes, the concerned individuals need to try to work on themselves, we can only tell them to think about their actions

•
17 Aug 17
@vsai2008
The problem is they believe that what they are doing is right


•
20 Aug 17
I understand what you are saying, but, hatred has been around for a long long time. When you say Never Again Jews understand that one, but, Never Again means that people have to stand together and fight the evil of the world and not blame one nation or people that are to blame but blame the evil that does this. Stand up to them and fight them together. The Jews are not the only ones the evil will come after. They will come after those that do not believe in their ways. Never Again must be Never Again, but, I hate to tell you look what is happening in Europe and the US and all over the world.

•
20 Aug 17
I understand your point but I believe that even in little ways we can fight and stop this evil from spreading. It's not only the Jews who have suffered in this kind of behavior, and not only them is suffering and will suffer because of this. But it doesn't mean we shouldn't try, right?

•
20 Aug 17
@JeeyanDe
What do you suggest we do to fight evil?

•
20 Aug 17
@Hannihar
First thing to do, I believe, is voicing out our thoughts against these ideals.We may differ in color, race, and religion but we are all the same, we are all humans with emotions and beliefs.We all have to see that putting walls between us, such as thinking that one race is superior than others, will lead us nowhere but the dumpsters.If we will be able to achieve that, then everything will just fall into its place.Those people who are against this cause must come together and unite in fighting this off by educating people about equality and justice, starting with the children.If majority of the people in this world show disgust over this matter, the small percentage of people who think this way, might eventually change minds, no longer be blinded by racism, or if not, just shut their mouths up since it should be illegal to promote violence and hatred. I'm not really sure if this is entirely possible or I'm just being wishy washy here, but I believe that all humans have goodness in their hearts and what they do, or is fighting for, is what they believe is right, and is what's best for the world. For instance, I believe those Nazis who killed Jews back then didn't do it for fun, it's because they believe that by doing do, they are helping to create a better world. Twisted and stupid, yes, but they have been brain washed to think this way, and so what we should do now is to prevent more people from being infected by this stupid ideals.

• Hong Kong
17 Aug 17
@JeeyanDee
Some people my friend are living in a parallel universe or have their own separate reality.


•
17 Aug 17
They need to come back to reality then.

• Hong Kong
17 Aug 17
@JeeyanDee
That's right my friend.


• Thailand
17 Aug 17
Unfortunately there will always be a certain faction of people follow anyone who seems charismatic.

•
17 Aug 17
Before following people, we should also think if their points are correct for ourselves and then review if our values coincide with what they preach.

• Chile
17 Aug 17
I agree. Our freedom ends where our neighbors freedom begins. Some things should be banned as they will always be the cause of violence.