An Attractive Horseman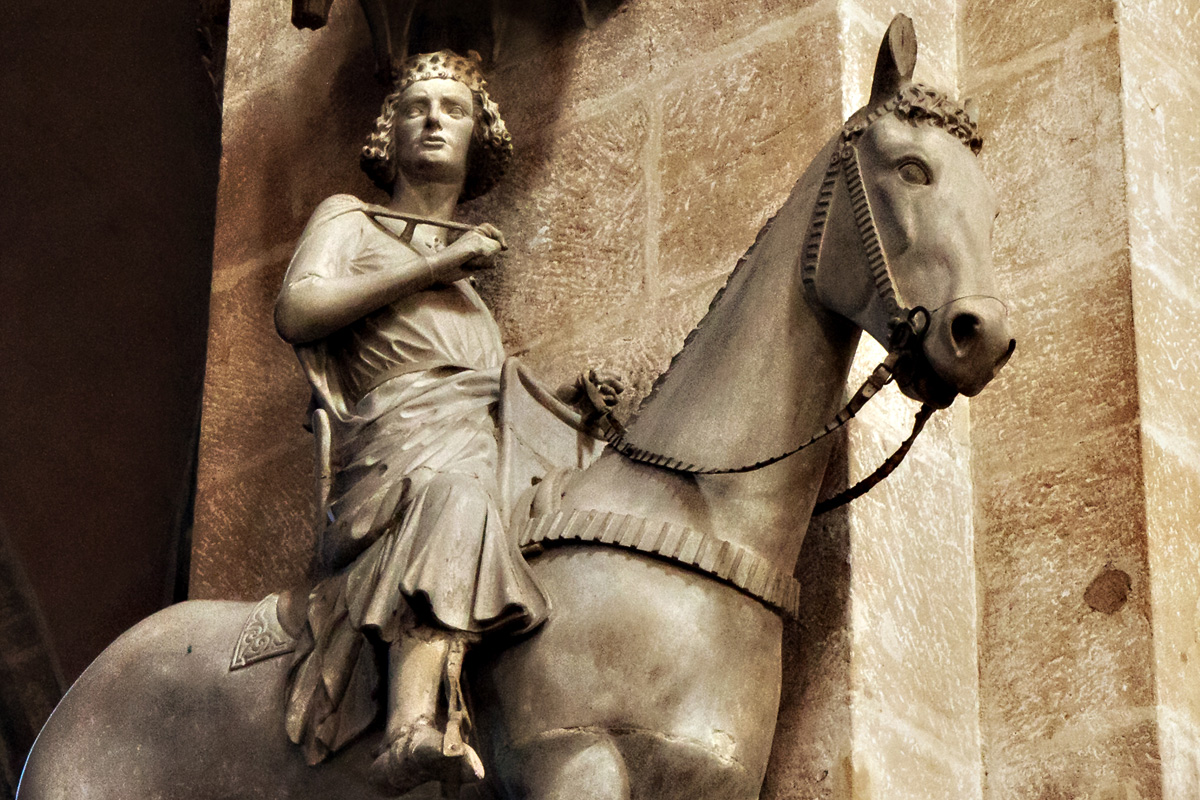 Uzbekistan
August 19, 2017 1:22pm CST
The German city of Bamberg is located in Upper Franconia which is a part of the land Bavaria, not far from Nuremberg and Würzburg. The river Regnitz flows through it adding to its natural pretty location. The city proper has ~70.000 inhabitants. Although there were two air raids during WW2, the historical centre hasn't been destroyed. If you haven't travelled through Germany, you don't know how remarkable this information is. There are many sights worth visiting and you'll need some hours to do so. When you're tired, you can have a smoked beer for which Bamberg is also famous. The Imperial Cathedral is the most imposing building with four 81m high towers, founded in 1004. Later it was partially destroyed by fire and rebuilt in 1111. In the 13th century, it received its present late-Romanesque form. I went in mainly to look at the famous Bamberger Reiter (Bamberg horseman), a less than life-size sculpture of a rider on a horse fixed to a column about three meters from the floor. It was created around 1235. It's still uncertain who the rider was. He's got a crown on his head, is unarmed and dressed in noble clothes. It's a pity that the figure is a bit too high up to see the face clearly. I saw it later on a postcard in its full beauty. The chin-long curly hair may not be the latest craze in male hairstyles, but otherwise, the man could easily make it onto the cover of a magazine. The other artefact I liked was the Prince's Portal at the side of the Cathedral facing Cathedral Square from the middle of the 13th century which is only opened for certain services. Twelve prophets and apostles stand on columns on either side of the door looking at Christ in the tympanum (the part over the door) as the Last Judge. To his right, we see the smiling faces of the saved and blessed, to his left the damned with crying and distorted faces. A devil has chained them and leads them away to hell: a merchant, a bishop, a king, and even a pope! Rather funny, kind of. In 1973, the town celebrated the 1000th anniversary of its founding, a fact which especially impresses visitors from the New World. The townscape is unique. It's a complete artwork which in 1993 UNESCO added to the world cultural heritage list. The town extends across seven hills (of course it's dubbed 'Franconian Rome!), each crowned by a church. Seen from above, the churches form a cross. Should you ever travel through Germany, include Bamberg in your itinerary!
9 responses

• United States
19 Aug 17
The rider in the photo really is a handsome fellow, in my opinion. A noble-looking one too. I am amazed that the town extends over seven hills, something I would love to see.

• United States
19 Aug 17
thank you for the interesting story here.You always have something there. The statue is a handsome one.

• Anniston, Alabama
19 Aug 17
I would LOVE to visit Germany one day.

• Uzbekistan
19 Aug 17
@andriaperry
Very wise. It's possible, though, that I won't be alive anymore when you've earned enough to buy a plane ticket with your myLot earnings. :-)


• Green Bay, Wisconsin
21 Aug 17
It does sound like a wonderful place to visit.

• United States
21 Aug 17
I had the pleasure of visiting Nuremberg, Wurzburg and Bamberg


• Bunbury, Australia
23 Aug 17
This does sound a very special place. Thanks for the information. It does sound something quite special.


• Switzerland
20 Aug 17
I would surely love to visit Bambger. It is curious that the rider is unknown. There are more cities built across seven hills than we think, not only Rome, but also Athens, Istanbul, Lisbon and Paris. Hard to know which city has in mind Nostradamus saying that "the city of seven hills will be destroyed" during the reign of the 112th Pope. (I suspect the 112th is this one).