Men and Cats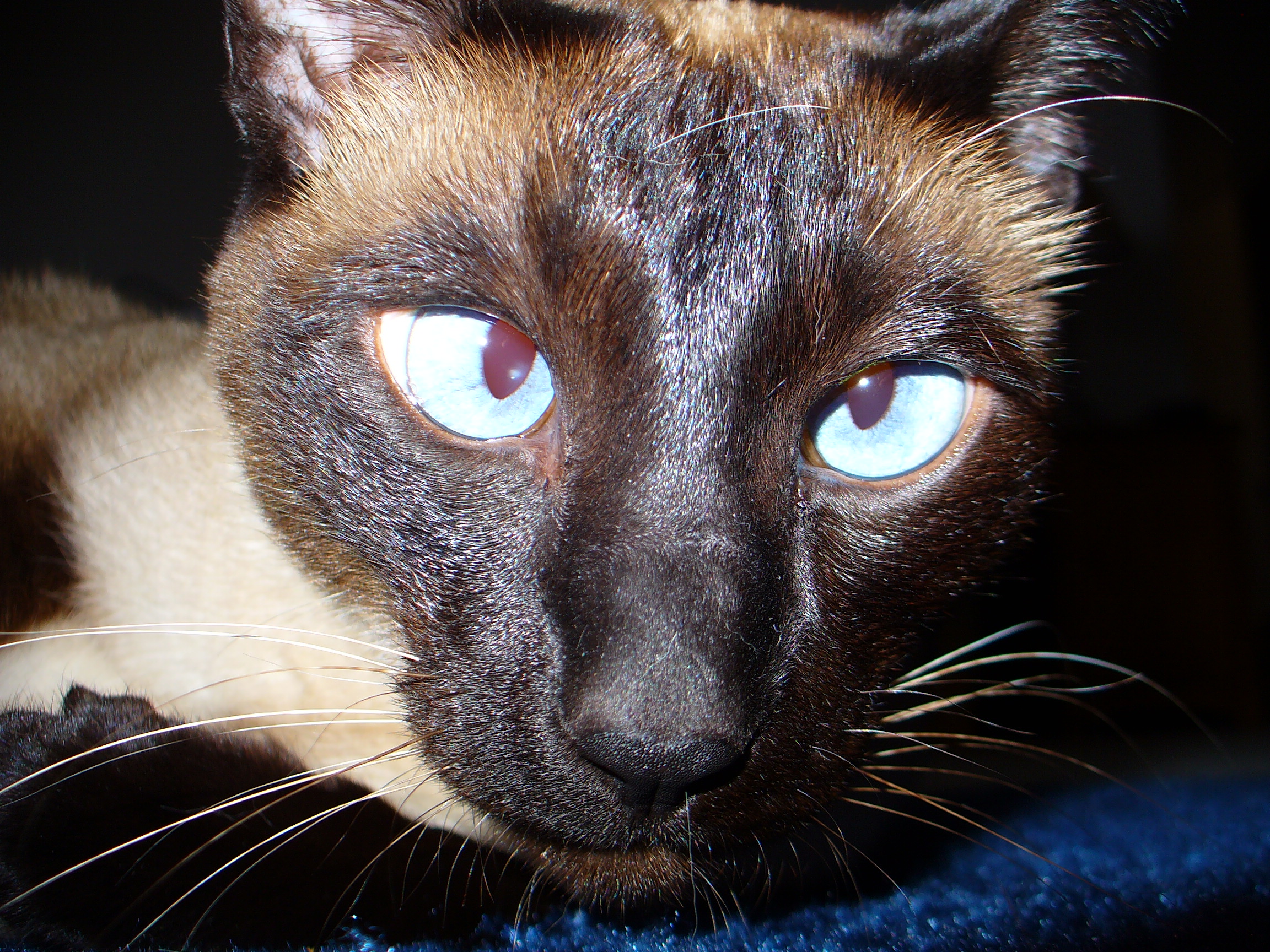 Gloucester City, New Jersey
August 20, 2017 5:30pm CST
I was just telling my girlfriend in Virginia about my dad and the cat I had for 18 years. I thought I'd share it with you because it's a funny memory that I can look back on with fondness. ~~~~~~~~~~~~~~~~~~~~~~ Dad would say "I like kittens. The only bad thing about kittens is that they turn into cats." But, he liked our cats, too. Just not the way Mom and I did. Simon [my slightly cross-eyed pedigree Siamese] was afraid of him, but when he'd be napping on the couch, Simon wanted to lay on him so bad. Pepe [my parents' Chihuahua] would be there and Simon would be on the back of the couch looking down at Dad. Finally, he'd put one foot down and touch him and pull it back up. He'd wait a bit and do it again. Then he'd put weight on that foot. He'd wait a bit again and if Dad didn't shoo him off or the dog didn't growl, he'd slowly put all four feet down and then stare at Dad's face to see if Dad was awake. Then he'd finally curl up and let out a big sigh. The reason I know this is because Dad was awake several times and watched it. He got a kick out of it. That big sigh just tickled him. ~~~~~~~~~~~~~~~~~~~~~~~~~~~~~~ So that's my Dad and the cat story. What kind of men and cats story do you have (good ones, please)?
7 responses

• Hong Kong
20 Aug 17
@jerzgirl
Thank you my friend for sharing this post.




• Gloucester City, New Jersey
23 Aug 17
@minx267
My Josie has begun playing with me recently. She loves to talk to me. We'll have actual "conversations" and then she wants me to pet her and give her scritches after which she'll "groom" my arm. But, she never played WITH me unless I toss something for her to chase. But, she's beginning to chase my hand and pounce giving me rabbit kicks (no claws) and acting like I'm another cat. I feel honored. She's a rescue and we've had her just over a year. She is my profile picture.


•
21 Aug 17
I have two stories to share about men and cats. One time when my handyman came he and Sophie were having a private conversation. How I knew that is because I started to say something and he told me he and Sophie were having their own conversation. They were huddled together. I went away because it was none of my business. The 2nd story is when I still had my other cat. My landlord came and she was sitting in the corner at one end of the couch curled up and the landlord sat down. At one point he started to wave his arms and she got very angry because she thought he was going to hit her and he wasn't and I had to calm her down. I think she hissed at him. I have another story but not about my cat. One day I was getting my haircut and it was at the hairdresser's mother's apartment and her mother had a simese cat. The cat would come back and forth and I felt it was looking inside me to my soul and then the cat felt I was fine and came over and let me pet her or him.

•
22 Aug 17
@jerzgirl
My handyman is a cool guy. Sophie now a days when he comes just observes. She does not carry on lengthy conversations with him. I do not know why. She comes up to my life coach. She has a cat too. I remember before I had my own animals a friend had a siamese cat and I took care when he went on vacation and I was afraid of it. It would terrify me. I would bounce off the walls. Since I had my own animals I see animals observe like the siamese did and see that I am ok. She had to observe me first and then decided I was ok so then she wanted me to pet her.

• United States
14 Oct 17
I have known a few men to be Big Cat fans, and miss them when they are no longer there. When I first got married to my husband he owned a Cat. The cat would not allow me to sit close next to my husband. She would literally seperate us anytime she could until she got used to me and the idea I now lived there. It was a little frustrating when you're a Newlywed

• United States
21 Aug 17
That is such a sweet story you shared with us. We adopted our cat Missy from a shelter. She was a cute kitten, but she would bite and scratch when we least expected. My husband did not pet her for an entire year because of a bad bite he received from her. He totally ignored her. My husband tolerated Missy, but did not love her like our son and I did. She lived a long life and bit or scratched every member of the family, even grandparents.

• Gloucester City, New Jersey
22 Aug 17
I had one of those that I left with my parents when I reconciled with my now ex. He ended up being put to sleep because he attacked my aunt as she was walking past him requiring hospitalization and many stitches. I don't know what was wrong with him, but I understood why they did what they did.

• Lake Charles, Louisiana
20 Aug 17
The best story of a cat I can share with you is a female cat named Muenster Cheese when she wants to look out of the bathroom window, I have to open the curtains when she is on the sink and makes this leap from the sink to the window ledge like the Six Million Dollar Man does his leaps without the sound effects of course.

• United States
20 Aug 17
I have cats, live in Virginia, and have a friend in Virginia who I talk to about cats all the time. Most of the men I have even known have been fine with cats, but my current roommate takes the cake. He's lived with my cats for three years and still doesn't know how to handle them or what to make of them. My male Bengal is fully aware of this. Suffice it to say, before he was neutered, he didn't just spray that man's pillow. He soaked it straight through. In fact, his things were the only things that cat sprayed. He also intentionally pesters him to pick him up and curls up beside him because he knows how uncomfortable that man is.

• Gloucester City, New Jersey
20 Aug 17
Oooooooo, that sound like my friend's last cat. Casper, a black cat, hated his twin brother because he had once tied a balloon to his tail and it scared the living daylights out of him. After that, he wanted nothing to do with balloons or Joe and would use Joe's clothes and bed as his litter box when Joe wasn't home if he could get into his room. My friend would wash everything as quickly as possible to keep from having WWIII begin. The brother has some issues and he didn't want Casper hurt. But they now have a white oriental shorthair named Seamus who loves Joe and loves to rough house. But, I love Bengals. They're beautiful. And, the cat in my story knew my grandmother didn't like cats (Dad's mother), but every time she visited, Simon would end up in her lap. It drove her buggy! LOL