Peek a Boooo how are YOU??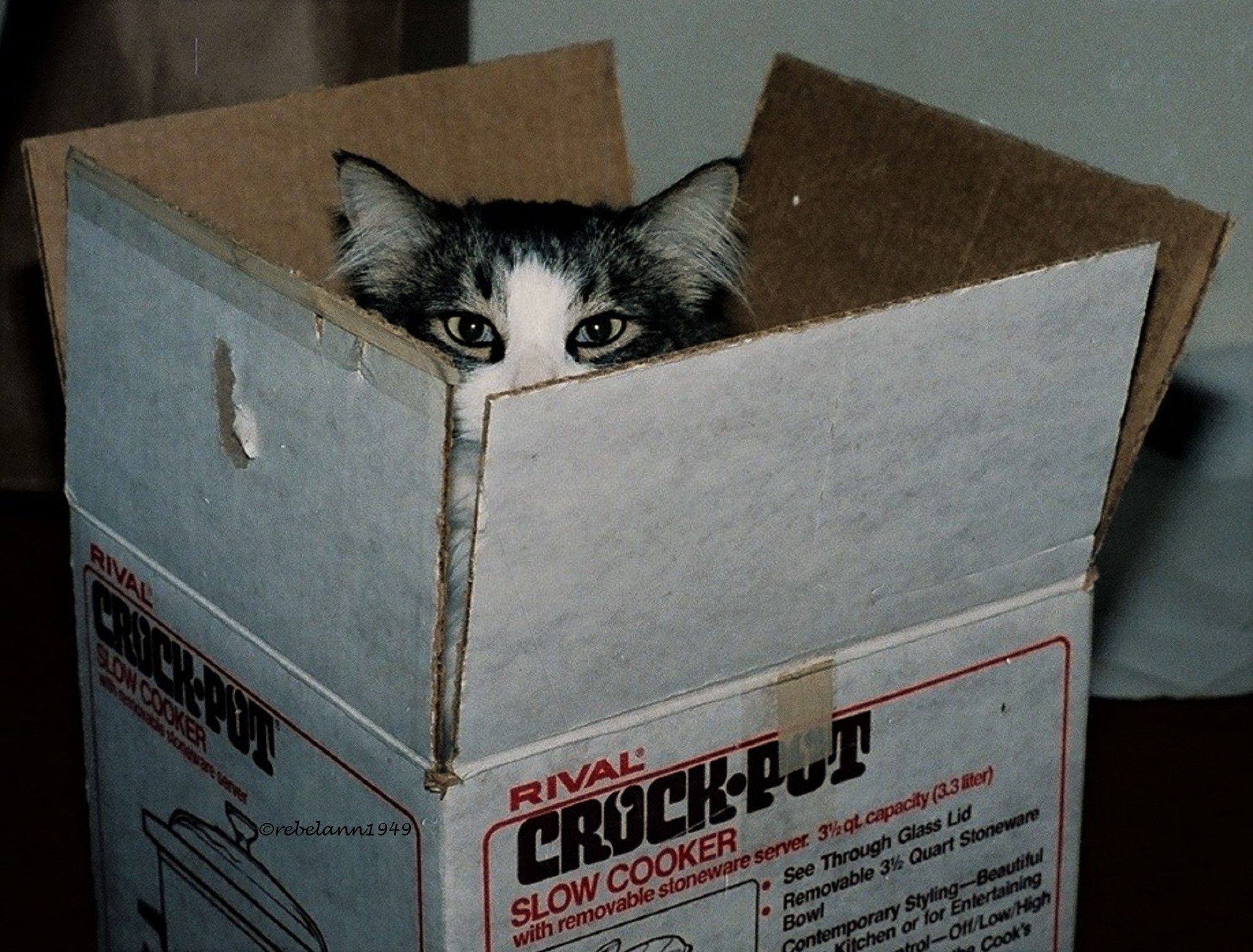 El Paso, Texas
August 25, 2017 10:08am CST
I'm feelin soooo dadblasted good

Wednesday I went shoppin and put 110 miles on the car.

I brought the glass jars to the recycle center in Las Cruces because El Paso does not recycle glass.

While there I went to Sams and Natural Grocers then headed to Costco in El Paso and then Sams in El Paso cuz I forgot the kitty litter. At least I got to see a few old familiar faces and had a little conversation with all kinds of strangers as well.

Yesterday I had to face reality. I have a forest of 3' to 4' weeds, those damn things grow faster than anything I've ever seen when they get rain.

Guess what I get to do today? ~~~~~~~~~~~~~~~~~~~~~~~~~~~~~~~~~~~~~~~~~~~~~~~~~~~~~~~~~ I finally found the original photo of Hotshot peekin at me out of a box. I took this shot in the mid 1980s with a Nikon EM 35mm camera that mom had given me. Thank you Mom,

7 responses

• United States
25 Aug 17
A lovely kitty RIP Hotshot.

So glad you are feeling so good Rebel. Weeds aw well blast them


• El Paso, Texas
25 Aug 17
Thank you. Yeah, I wish I could blast em but that would scare the neighbors


• El Paso, Texas
25 Aug 17
Thank you. No there's no threat for that, I'm way too far inland.


• El Paso, Texas
25 Aug 17
Thank you, he sure was a cutie alright. I prefer the sams in Las Cruces, they have a much better selection of goods. Thanks, I did have a really good time.

•
4 Sep 17
What an adorable cat. That is so sweet. Hi Hotshot and I see you.

• El Paso, Texas
4 Sep 17
Yes he was. He even liked my dogs and they like him.

•
5 Sep 17
@rebelann
Do you have any animals now reblann1949? My dog loved her cat and I believe my cat loved her dog, but, they are both gone and now I have my Sophie. I have to learn to accept the fact that this is who my Sophie is and enjoy the nice moments we have together. She can be very sweet when she wants to and there are times she will let me pet her or her nose. It is very hard to lose our special friends. I am glad that Sophie is young and hope that we will grow together as years go by and I am here all the time for her.

• El Paso, Texas
5 Sep 17
Yes I do
@Hannihar
I have 3 cats and a dog. It is always hard to lose them but it helps to know they had a good home and were loved til the end, it's the only thing we can do.



• El Paso, Texas
25 Aug 17
Thank you, I had a really good target

I don't shop often but I always make it a point to have fun when I do. I love meeting people and I'm finding I'm not the only one.

• East Tawas, Michigan
6 Sep 17
Your kitty photo is darling, they love to play with a cardboard box! Hope your shopping trip was enjoyable:)

• El Paso, Texas
6 Sep 17
Thank you

Yeah, this kitty loved getting into all kinds of things then when the pups walked by he'd slap at them. He was sooo funny. Yes, it was a very enjoyable shopping trip. Maybe I should take another one soon, I've been busy with weeds and haven't left the house since.

• East Tawas, Michigan
6 Sep 17
@rebelann
I ripped out weeds this morning, what a mess! My cat use to love playing with a large, paper shopping bag!

• El Paso, Texas
6 Sep 17
My first kitty liked paper bags too
@kobesbuddy
she was such a sweetheart.


• Waikoloa, Hawaii
13 Nov
you Tag a weeds is that mariquana leaves isnt that illegal??