What is the "right age" to get married?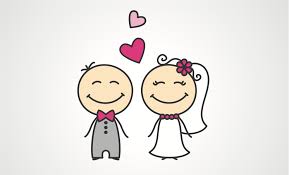 Philippines
September 8, 2017 9:32pm CST
During the early days, most people get married at very young ages, below their 20s. But right now, especially in developed countries such as Japan, people are getting married at their 30s. Or in fact, there are a lot of people now who do not want to get married at all, and prefer to just live in with their partners. As such, it got me thinking what is the "right age" to get married. Or, maybe the importance of marriage has continuously declined over time. In your case, at what age did you get marry? Or, at what age do you plan to get married?
7 responses

•
9 Sep
Interesting. If you dont have plan on marrying, you must have another plan. What might it be? :)

• Philippines
9 Sep
@Mistletoe11
just live-in so I could leave him easily if something went wrong


•
9 Sep
@AkoPinay
but that would mean he can also leave you easily and a broken family D:


• Roseburg, Oregon
9 Sep
I think between 25 and 35 is a good time to get married.

• Philippines
9 Sep
Yes I agree. and of course, when you already have a stable job and some savings to start a family.

•
9 Sep
If you were referring to Baby Boomers, yes, these generation had to marry at early age because this was the time that human population has greatly decreased due to World Wars. Now a days, we're over populated so it is not encouraged anymore. The best age would be whenever you are ready. Not just physically but as well as mentally.

• Philippines
9 Sep
Yes, I agree with you in most of your points. But I believe it also depends on what country you are. Because in Japan and Germany, majority of their people are now old and they are encouraged to marry and have more children. Also in China, their decreasing population growth rate would be one of their major problems in the coming decades. The government is thinking who would assume the jobs that the retiring baby boomers will left behind. As we know, they previously imposed a "one-child policy". Now, that law was already scrapped and the people are encouraged to marry and have children. But it is on the macro perspective, personally, yes you are right that the best age would be whenever you are ready, physically, mentally, and of course, financially.


• Philippines
9 Sep
Yes, I agree. But is it legal in the United States to get married at the age of 16?

• India
9 Sep
I am following this, when the boy and girl reach their puberty, and they want to get marry they can do it.There are 2 criteria need to get marry. 1.They should reach their puberty 2.They should agree for marriage it can happen at any age.early marriage is good.

• Philippines
9 Sep
Hi Noor. I think I do not totally agree with you. As I searched the internet about puberty, I found this: "Puberty usually occurs in girls between the ages of 10 and 14, while in boys it generally occurs later, between the ages of 12 and 16." So technically, if we follow your argument, girls can marry at an early age of 10. But many countries do not allow it. Most countries set the legal age from 18 to 21 years. In these countries, people can get married only after they reach a certain legal age.

• India
9 Sep
@maximaoliveros
yeah I know... Even some countries set the legal age 14,some 16 some18.I am asking "which is the base thing to set the marriage age?? If a boy and girl get their puberty and wants to marry at 15,this is illegal in india.so who are we to set their age limit?? and most of the teenagers are addicted by bad habbits and they have relationship with many girls.its better to get marry at early.If they get marry at early they can retire early.my grandma got married at 12.she can give birth so what's the problem?

• Philippines
9 Sep
@NoorNoor
Yes, I get your point. But the problem is your marriage will not be legally honored. So in the eyes of the law, your marriage is null and void, and as if you have not married at all.


• Philippines
9 Sep
There really isn't any ideal age. You just know when you're ready to get hitched. I think for a lot people, they say the ideal age is mid/late 20's only because you don't want to be too old when you decide to have kids. Say you get married and have a kid by the age of 35, you'd be past 50 and your child will only be in his teens.

• Philippines
10 Sep
Yes, actually others say that it is better to get married and have kids at earlier age to enjoy your motherhood and that fun in seeing your kids grow. Plus, if you have smaller age gap between you and your kids, you probably can understand your kids better and be friends with them. That is what other people say.

• Philippines
10 Sep
@maximaoliveros
I'd have to agree with that. It's actually really fun to see some of my friends who have kids who are already in highschool. My daughter is turning 7 in November and I'm 35. I don't want to be too old when she decides to get married and have her own kids.

• India
9 Sep
I agree previously even in our country people used to get married at a very young age . But it's totally different now. Now it's gone to 30 or late 20's . And of course live in is also making it's way slowly..

• Philippines
10 Sep
Yes, I think that is the trend now. But it always has advantages and disadvantages.