The Name "Mr. Anomaly".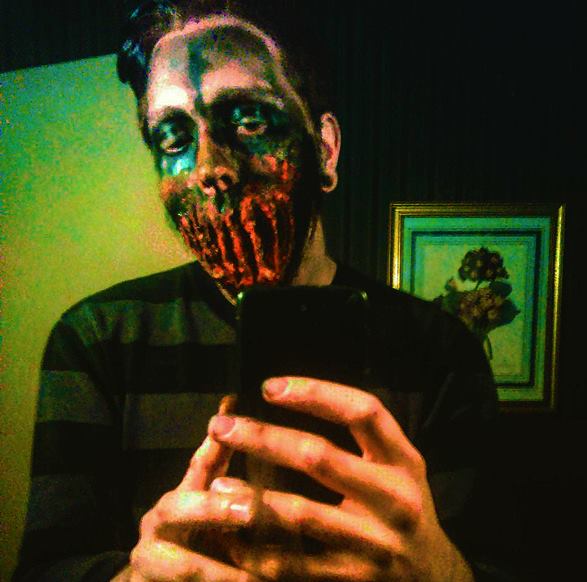 United States
September 10, 2017 2:10pm CST
I've been asked a couple of times here on Mylot where my artist pseudonym "Mr. Anomaly" comes from! And the answer is actually a pretty interesting one! A couple of years ago, I got into trying out special effects makeup. I made myself into this really strange character "Shown in the picture" for Halloween. I thought nothing of naming this character until a few months later, when I had been discussing my art journey with a close friend of mine. It was then that we had agreed that the name for this character should be "Mr. Anomaly" and that I should be focusing on branding myself. It was catchy, and had the strange imagery to match my art. I wanted a figurehead to represent a clothing brand that I had been working to create. I then had a website created for the brand as well as a neat little logo that I will feature in the comments. I went with this idea knowing well that many artists give themselves pseudonyms because it is easier for their identity to be remembered by those who come across their work. I would share the link to my website, but I feel that it would go against mylots advertising policy since I sell off of the site. What are your thoughts?
4 responses

• Italy
10 Sep 17
I suggest you to add the link to your profile. You added your Facebook page so that should be enough, a person with a decent brain should be able to spot the website in your profile. Or you can add the direct link there, I don't know. Yes, I'm afraid posting the link somewhere else would go against the guidelines. That's a nice story, glad you came up with a cool name for your brand. It isn't an easy thing to do. Halloween make up, aww, that's cute!

So you quitted doing special effect makeup? Or you now allow yourself to do so once a year?


• United States
10 Sep 17
I'd rather get a gathering on the facebook page than on the website at this time... the site needs some more work and more products. Just waiting for the resources to kick in to pursue it further haha. I only do the effects makeup for photoshoots, zombie events at the drive in theater, or for Halloween :p Stawp!... you're making me blush...


• Italy
10 Sep 17
@Mr_Anomaly
Okay, will stalk you on Facebook. Yes, it's much better to have people there at the moment. It's a mean to promote your stuff, shop or paintings or whatever.

Basic marketing.

Your site really needs more products. I'm a girl, I want to see the girly stuff!


• United States
10 Sep 17
@sabtraversa
It all comes down to money... I'm so caught up with having to pay my rent and bills, that I just don't have the extra to put more clothing out there right now

Soon though... soon!


• Hong Kong
10 Sep 17
@Mr_Anomaly
Thank you for the explanation of the name that you are using my friend.



• United States
10 Sep 17
Absolutely! I find it so odd when people call me by that name in person when I'm not wearing this face haha

But if the name sticks, it sticks!


• Hong Kong
10 Sep 17
@Mr_Anomaly
That's right my friend.



• United States
16 Sep 17
I think it's a smart move to use a catchy pseudonym. You're right about it standing out. People remember interesting, catchy, or "artsy" names better than they can remember actual names.

• United States
16 Sep 17
I agree.. my full name Christian Egbert... just doesn't seem like it would stick anyhow. "Mr. Anomaly" is just flat out unique.. even if people find it cheesy.. they still remember it


• United States
16 Sep 17
@Mr_Anomaly
I think Egbert is a memorable name, but that was the name of one of my favorite characters that my sister and I created for a book we wrote when we were younger. People have odd memories (or selective memories) so it's better to have something really catchy that sticks out to them.


• United States
10 Sep 17
He is quite a scary-looking fellow, but definitely one-of-a-kind!!! Well done!!