Thoughts on Bitcoin

United States
September 10, 2017 6:32pm CST
I am watching a documentary on Bitcoin, the new global banking method... I find it interesting because it makes money global, gets rid of counterfeiting, and makes currency more modern. No more complaining about who's faces are on our currency from leftists, there is no face. On the down side... this third party has complete eyes on your money and where it goes/comes from... to see something like this overthrowing our banks who control everything is actually pretty interesting. What are your thoughts... I still don't know too much about this, it's still a fairly new topic to me... but what are your thoughts on it?
8 responses


• United States
10 Sep 17
I'm not sure either... I suppose it's one of those things that would be done in the future with it.

•
12 Sep 17
Yes you can use bitcoins to pay for your purchases. Other countries are already doing that. In my situation I have the option to convert my bitcoins into my local currency and transfer them to my bank account and so on. It is just a matter of knowing what your options are.


• United States
10 Sep 17
Like I stated, I'm not 100% sure yet exactly how it works... I would think that the government would want it gone if it could grow to be a replacement to the banks some day. I'm not particularly sure how it is funded or any of the deep statistics about it... I'd like to learn more about it because it sounds like it could be very progressive in our society as long as it isn't a corrupt system.

•
12 Sep 17
@Mr_Anomaly
Obviously they would want it gone because they can not control it for now. People like me find bitcoin as a good option. One, there are minimal or no transaction fees unlike the banks.

•
11 Sep 17
I like it very much and I really believe that it's the best invention of the modern world after the internet.

• United States
11 Sep 17
I think it has some bugs to it that need to be fixed before it is heavily relied on by everyone. There are too many risks with using it in my opinion. Don't get me wrong, I think it's a great invention.. but it seems like a lot can go wrong with relying on it too much

•
12 Sep 17
@Mr_Anomaly
Yeah of course. I don't really know much about bugs though. One reason I trust it is the number of big companies that invested a lot of money on different alt coins.

• United States
12 Sep 17
@JeeyanDee
I suppose that is a good sign... I just feel that people will continue to use it for bad purposes... till they find a way around that... it's pretty unregulated


• Italy
11 Sep 17
I'm afraid Bitcoin will become illegal in many countries in the future. They will probably use the excuse of criminal activities, money laundering, to ban Bitcoin. My thought is that Bitcoin is a currency with uncontrolled inflation/deflation. Good for investors, and that's it.

• Canada
11 Sep 17
I too don't know very much about it. Perhaps there will be other virtual money's started in the future who knows but certainly how large and how popular they get determines its value and trustworthness? Online transactions give me a trading stock feel to them.

• United States
11 Sep 17
I'm not sure... I'm sure that Bitcoin can be used poorly in the wrong hands, perhaps funding terrorism or other dark activities since it is global money. Those are my thoughts... if there's a way around that.. I feel that a global decentralized currency system is awesome!

• Canada
12 Sep 17
@Mr_Anomaly
Not even sure how much real laundry money is floating around the world but when I think of trust it is only on a consumer level and not about large governmental concerns. I understand recently bitcoin has been a good investment but there is little to backup that it might stay that way? Like stock it can plumet down? Also how secure is it even when you have some. Like computers virtual money can be hacked so it wise to be careful and take precautions. The concept might though make for an interesting future.

• Kuala Lumpur, Malaysia
11 Sep 17
I think Bitcoin is a go to service for criminals in the deep web because it's anonymous at least that what I read. Also, I want to use it because I actually don't like Paypal but I can't figure out how to convert Bitcoin to my currency and everyone uses Paypal.


•
12 Sep 17
@Mr_Anomaly
I agree it is not totally anonymous. People with know how can read the public ledgers or the blockchain and be able to determine what happened and who is involved in a particular transaction. This is the reason why I am now more interested to know about another crypto which claims to be totally anon and that is monero.


• United States
11 Sep 17
We all live in tough times where we can't quite be sure whether or not our governments have the intentions of protecting their citizens... There is just too much going on behind the scenes that is kept secret from us all .. and secrets from anyone make you question your ability to trust them

• Philippines
11 Sep 17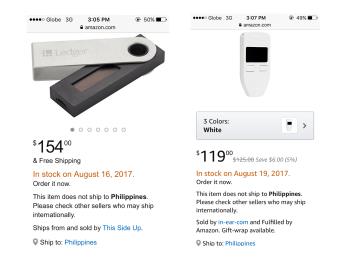 I am not a technical person so I can't explain how CryptoCurrency is controlled on computers but I am a "mathematician" and internet addict that's why I love Bitcoin.

Bitcoin is a VIRTUAL or DIGITAL CURRENCY but officially defined as COMMODITY which value is now higher than gold. We can buy Bitcoin at lower price, keep it in Trezor or Ledger Nano and sell it when price is higher. Or, simply use Bitcoin Wallets (Coinbase.com, Xapo.com, Blockchain.info, etc.) same as how we use PayPal to send/receive funds.