Another news article!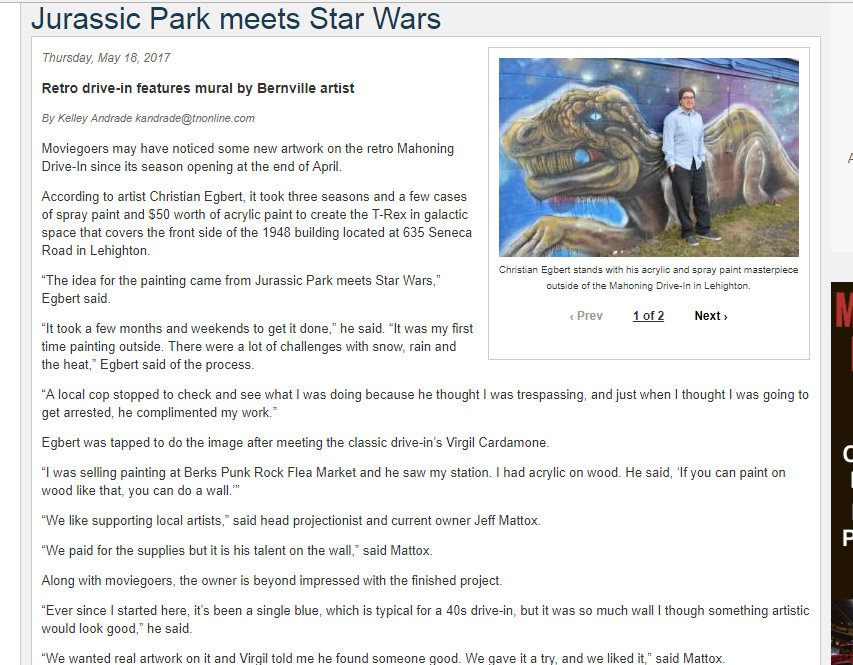 United States
September 17, 2017 10:59am CST
I'm still trying to catch up on here with all this news that's happened over the last couple of years... Earlier this year another article was released in Lehighton by Times News, reporter: Kelley Andrade, regarding my dinosaur mural at the drive in theater... I have a discussion with a photo of the mural in my past discussions for those who didn't get a chance to see. In this article it describes my meeting with one of the workers of the drive in theater and how the mural came to be. I have a screenshot of the online article.. but couldn't fit in the full article.. I'm upset that I was not told when the article was going to be printed so I didn't get to pick up any copies of the newspaper

What are your thoughts on this wicked space dino?

3 responses

• United States
18 Sep 17
Very cool! It's awesome you got featured in the paper, but too bad you didn't know when the article ran so you could get a copy.

• United States
18 Sep 17
Yeah it stinks.. I would've posted a photo of that instead


• Italy
17 Sep 17
Wow, congratulations!

You're becoming a newspapers celebrity, so many articles about you.


• United States
17 Sep 17
Plenty more to come in the future... gotta get that name out

haha


• Jalandhar, India
17 Sep 17

• United States
17 Sep 17
Absolutely! it's a great place to go to enjoy a movie and some popcorn