Sorry, I'm not sorry.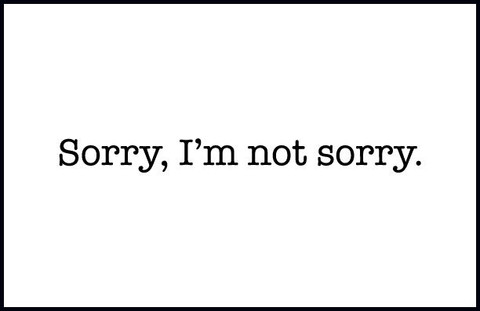 September 22, 2017 9:27am CST
Here we go! Have you ever seen yourself in some situation where some people thought you did something wrong, when in fact you just acted according to what you believe? And for those people should you apologize for something you do not think necessary to apologize?
6 responses

• United States
22 Sep 17
I don't apologize unless I feel I really did say or do something wrong or hurt someone unintentionally. If I did something to prove a point and they don't care? Nope not sorry. I'm usually a pretty apologetic person, but some things I won't budge on.

• Agate, Colorado
22 Sep 17
I have. If it was someone I cared about I would say sorry if they felt disrespected or anything but not sorry for what I did if i believed it was right.

• India
22 Sep 17
Yes i did , when i believe that i did not do anything wrong..

• Italy
22 Sep 17
Yes, sorry for not being sorry is a thing, I think.

I wish we could all agree and have the same beliefs/opinions, but it's not always the case and at the same times I don't want or need enemies, so I will apologize although I don't truly believe I need to.