Daily Bible Study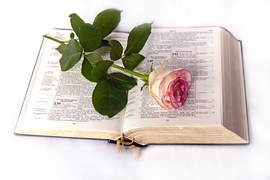 Green Bay, Wisconsin
October 6, 2017 8:12am CST
Day 47 Isaiah 53 53:1 Who hath believed our report? And to whom is the arm of the LORD revealed? 2 For he shall grow up before him as a tender plant, and as a root out of a dry ground: he hath no form nor comeliness; and when we shall see him, there is no beauty that we should desire him. 3 He is despised and rejected of men; a man of sorrows, and acquainted with grief: and we hid as it were our faces from him; he was despised, and we esteemed him not. 4 Surely he hath borne our griefs, and carried our sorrows: yet we did esteem him stricken, smitten of God, and afflicted. 5 But he was wounded for our transgressions, he was bruised for our iniquities: the chastisement of our peace was upon him; and with his stripes we are healed. 6 All we like sheep have gone astray; we have turned every one to his own way; and the LORD hath laid on him the iniquity of us all. 7 He was oppressed, and he was afflicted, yet he opened not his mouth: he is brought as a lamb to the slaughter, and as a sheep before her shearers is dumb, so he opens not his mouth. 8 He was taken from prison and from judgment: and who shall declare his generation? For he was cut off out of the land of the living: for the transgression of my people was he stricken. 9 And he made his grave with the wicked, and with the rich in his death; because he had done no violence, neither was any deceit in his mouth. 10 Yet it pleased the LORD to bruise him; he hath put him to grief: when thou shalt make his soul an offering for sin, he shall see his seed, he shall prolong his days, and the pleasure of the LORD shall prosper in his hand. 11 He shall see of the travail of his soul, and shall be satisfied: by his knowledge shall my righteous servant justify many; for he shall bear their iniquities. 12 Therefore will I divide him a portion with the great, and he shall divide the spoil with the strong; because he hath poured out his soul unto death: and he was numbered with the transgressors; and he bare the sin of many, and made intercession for the transgressors. What do you believe? With so many different religions and philosophies in the world, who and what do you believe? God has shown himself faithful in the face of every examination by those who seek the truth about who he is and his purpose for his creation. Science has gone to great lengths to disprove God, but they cannot completely dismiss him, because he is the answer to every question for our existence. God also promised Adam and Eve a Savior when they sinned in the Garden of Eden. With the promise of a Savior, God gave Isaiah a detailed prophecy of our Messiah. As Christians, you know this chapter points directly to Jesus – his life, his death on the cross, his burial in a borrowed tomb, and our salvation through his resurrection, as he intercedes for us with the Father. John 12:37 But though he had done so many miracles before them, yet they believed not on him: 38 That the saying of Esaias the prophet might be fulfilled, which he spoke, Lord, who hath believed our report? and to whom hath the arm of the Lord been revealed? Mark 9:12 And he answered and told them, Elias verily cometh first, and restores all things; and how it is written of the Son of man, that he must suffer many things, and be set at naught. John 1:10 He was in the world, and the world was made by him, and the world knew him not. 11 He came unto his own, and his own received him not. (KJV) Hebrews 9:28 So Christ was once offered to bear the sins of many; and unto them that look for him shall he appear the second time without sin unto salvation. (KJV) 1 Peter 2:23 Who, when he was reviled, reviled not again; when he suffered, he threatened not; but committed himself to him that judges righteously: 24 Who his own self bore our sins in his own body on the tree, that we, being dead to sins, should live unto righteousness: by whose stripes ye were healed. 25 For ye were as sheep going astray; but are now returned unto the Shepherd and Bishop of your souls. 1 Peter 3:18 For Christ also hath once suffered for sins, the just for the unjust, that he might bring us to God, being put to death in the flesh, but quickened by the Spirit: (KJV) Matthew 26:63 But Jesus held his peace. And the high priest answered and said unto him, I adjure thee by the living God, that thou tell us whether thou be the Christ, the Son of God. (KJV) Matthew 27:57 When the even was come, there came a rich man of Arimathaea, named Joseph, who also himself was Jesus' disciple: 58 He went to Pilate, and begged the body of Jesus. Then Pilate commanded the body to be delivered. 59 And when Joseph had taken the body, he wrapped it in a clean linen cloth, 60 And laid it in his own new tomb, which he had hewn out in the rock: and he rolled a great stone to the door of the sepulchre, and departed. (KJV) 2 Corinthians 5:21 For he hath made him to be sin for us, who knew no sin; that we might be made the righteousness of God in him. (KJV) Romans 5:17 For if by one man's offence death reigned by one; much more they which receive abundance of grace and of the gift of righteousness shall reign in life by one, Jesus Christ.) 18 Therefore as by the offence of one judgment came upon all men to condemnation; even so by the righteousness of one the free gift came upon all men unto justification of life. 19 For as by one man's disobedience many were made sinners, so by the obedience of one shall many be made righteous. (KJV) Mark 15:28 And the scripture was fulfilled, which says, And he was numbered with the transgressors. Hebrews 7:25 Wherefore he is able also to save them to the uttermost that come unto God by him, seeing he ever lives to make intercession for them. Jesus is clearly our Messiah, prophesied by Isaiah through the power of God. There are many more verses I could provide, but these show our Messiah is Jesus Christ, and he is coming back. John 20:31 But these are written, that ye might believe that Jesus is the Christ, the Son of God; and that believing ye might have life through his name. (KJV) God's arm is not to short that it cannot save the lost and bring them back to himself, despite what the skeptics would tell you. God reached his arm to earth, sent us a Savior, and if you believe, you are redeemed from death, hell, and the grave. Satan has no power over you. Let's pray: Father, thank you for providing the proof in your Word that Jesus is my Savior. Help me live my life glorifying and praising you for all you have done for me, and help me tell others about your love for them. In Jesus' name, I pray, amen. Copyright © 6 October 2017 by Valerie Routhieaux Image courtesy of Pixabay
4 responses

• Wausau, Wisconsin
6 Oct

• Green Bay, Wisconsin
6 Oct
Thanks for reading the study. Have a blessed day.

•
6 Oct
Sometimes people believe only what they want to believe, or what suits them. Even in the Bible days, with so many miracles seen firsthand e.g. (when Moses was taking the children of Israel out of Egypt) yet many found it hard to believe. It is a hard task, but I know God is real.

• Green Bay, Wisconsin
6 Oct
It is hard because people will believe what they want, even with the evidence in front of their face.

• India
6 Oct
Yes he is our life and savior.


• Green Bay, Wisconsin
6 Oct
Yes, he will. I hope your day is blessed.