The Last of the Mohicans : A Movie / Book Review (Sort of)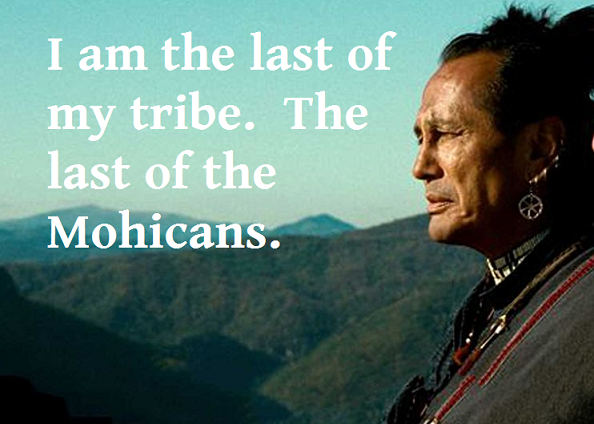 Austin, Texas
October 13, 2017 11:21pm CST
When I was a child, my father used to refer to himself as "the last of the Mohicans". I never knew what he meant by that. When I grew older I learned of a book written by James Fenimore Cooper. My father was an educated and a well read man. It occurred to me that there was something in this book that he was referencing and that he had related to himself. By the time I was old enough to ask him, he had grown old and senile and I could not communicate with him. He passed away when I was in my teens. I grew even older and got married. My husband checked out a movie from a video rental store for us to watch. The movie was a film adaptation of the book. My husband was not aware that the title of the film had a certain place in my heart. He just thought it would be a good movie for us to watch. The movie was magnificent! Everything was fabulous. The scenery. The acting. The soundtrack. But I didn't get it. I couldn't figure out what the connection was that my father had made between himself and "the last of the Mohicans". Perhaps, in this life, there are some things in life that we aren't meant to know. Agree or Disagree. https://youtu.be/uzMx60ea_gI

From the 1992 Michael Mann film "The Last of the Mohicans" with Daniel Day-Lewis, Madeleine Stowe, Russell Means & Wes Studi. This musical piece (originally ...
7 responses

• Philippines
14 Oct 17
'I will find you! No matter how long it takes, no matter how far. I will find you!' Great movie. Perhaps, your father was referring to himself as the last of his family.

• Austin, Texas
14 Oct 17
That was the best line in the movie!!



• India
14 Oct 17
I had read the book years ago (may be decades ago). But have never watched the movie. I agree with the last sentence of yours.

• Philippines
14 Oct 17
I had seen that movie so long ago and I could not remember much about it now. Maybe your father had some attachment with the "Mohicans?"

• Toccoa, Georgia
17 Oct 17
I had to read the book in English Lit in College. At the time, as I started reading it, I thought it would be boring etc and let me get through it so I can try and get an A, but as I read it, I ended up liking it a lot.

• Austin, Texas
17 Oct 17
It was a powerful story. How would we have ever managed if we had not been required to read certain books in our literature classes. I enjoyed my high school literature classes though, better than the college classes. It was the teachers. They were more enthusiastic. Were it not for them making "required reading lists", there are a lot of books I probably would not have read.

• Toccoa, Georgia
17 Oct 17


• Austin, Texas
14 Oct 17
Who were the stars in the 1932 film?

• Switzerland
14 Oct 17
@cmoneyspinner
To be honest I do not remember at all, I saw the movie so many years ago.