What kind of a commander in chief disrespect the death of a soldier?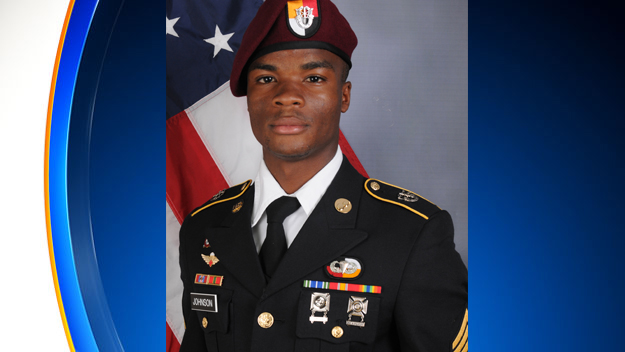 Philippines
October 19, 2017 6:07am CST
"He knew what he was signing up for" ~ Trump to grieving widow of sgt. La David Johnson SHAMEFUL! Donald Trump avoided serving in the US military with a medical deferment. His excuse was ""bone spurs in his heels". But I think it's the "yellow streak down his back". When Trump was interviewed in 1997 by Howard Stern about his sex life and how he avoided sexually transmitted diseases, Trump's respond was "It is a dangerous world out there. It's scary, like Vietnam. Sort of like the Vietnam era,I feel like a GREAT and VERY BRAVE SOLDIER." I am a pacifist and don't believe in war as a solution to settle disputes but I find it incomprehensible Trump's lack of empathy or decency in his flippant manner when he spoke to the widow of a soldier who gave the ultimate sacrifice. Watch Trump lie through his teeth...

During a Monday news conference, President Trump was asked about the killing of four Green Berets in an ambush in Niger and why he hadn't addressed their dea...
5 responses



• Canada
19 Oct
What an idiot he is, I have a hard time reading the news because he is an idiot and proves it to us every day.

• Philippines
19 Oct

• Canada
20 Oct
@josie_
I am waiting for him to be removed...

• Indonesia
20 Oct
How could he be appointed President?

• Philippines
20 Oct
@yanzalong
_He wasn't appointed but elected. Although he lost the popular vote he won in the electoral college which decides the winner in the US electoral system.

• Indonesia
20 Oct
@josie_
Can the electoral system be changed to a system that can determines only true president candidate to be elected?

• United Kingdom
21 Oct
To be fair I don't think he is getting a very fair press but I think sometimes he puts his mouth in gear before his brain. He is not the most tactful or highly educated of people.

• Philippines
21 Oct
@garymarsh6
_His past actions are that of a petty self-centered vengeful man-child. There is nothing presidential nor any indication of a generous spirit in his character. If we give him the benefit of the doubt that his call to La David Johnson's widow was misunderstood, he could have easily diffuse the situation by simply making an apology. Unfortunately admitting his mistake is something alien to Trump.

•
21 Oct
Sounds like he just put his foot where his mouth was, again!


• Philippines
21 Oct
@YrNemo
_I watch the media briefing John Kelly gave. His demeanor was the direct opposite of Trumps. His narrative drew sympathy from viewers but he should have stop short of criticizing the congresswoman. Somehow if you work in the Trump's white house, some of the uncouth behavior of the "president" rubs off you. "Lay down with dogs and you end up with fleas."

•
21 Oct
@josie_


(I don't know why you didn't end up being the president of your country. Your wisdom is incredible seriously.)