Laughter the Best Medicine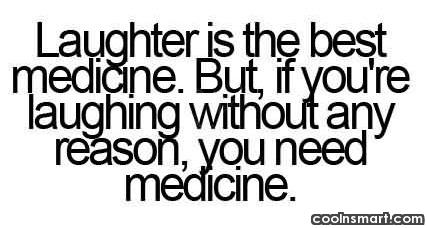 October 24, 2017 10:42pm CST
Have you ever heard the saying, "Laughter is the Best Medicine"? I believe this is true. Life slams us sometimes. For me, I am struggling with the emotions of failing health with my parents, a family member trying to undermine me, a dear friend walking away, and pulling out of financial difficulties. It can be overwhelming. Thank goodness for laughter. At the moment, I am watching comedian, John Crist. His approach to life, especially concerning Christianity is humorous and refreshingly honest. Who has a favorite comedian or entertainer whose humor helps them deal with life?
7 responses

• Indonesia
25 Oct 17
Laughing whether it be true or fake will benefit you.

• India
25 Oct 17
haha..lol..so true...everything should be in control..


•
20 Nov
I loved a lot of comediens but a lot of them are not with us now. Since you mentioned laughter I just wanted to share something here. There is a lady here that used to have a group about laughter and she is a very sweet person and always seems happy. She is the perfect person to do it. I got one of her CD's but do not know where it is anymore.

• Pamplona, Spain
10 Nov 17
I have lots of British favourites and also others from here and in America. Whatever makes me laugh leaves a lasting impression sometimes. Hope it helps you with your problems.

• United States
25 Oct 17
I like slapstick comedy. Always works for me.

• Philippines
25 Oct 17
Yes and heard it from my father





• Hong Kong
25 Oct 17
@gnatsmom
That's absolutely true my friend.