Nov 3rd Kindness Rock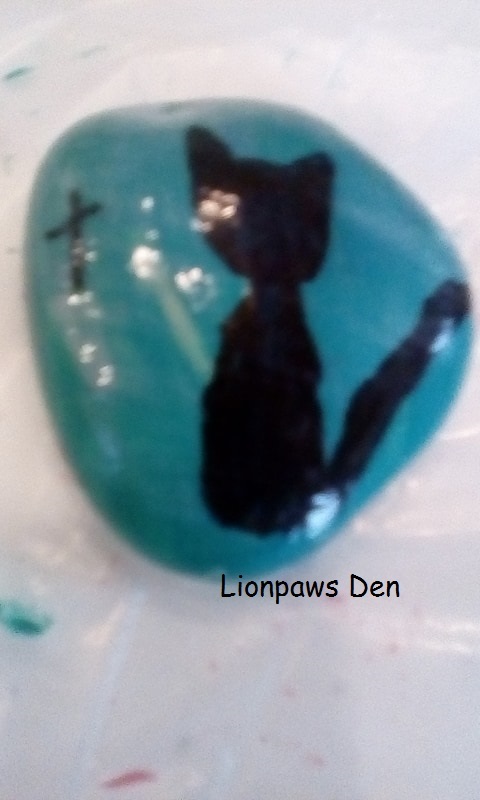 United States
November 4, 2017 5:16pm CST
I painted this rock yesterday during my first Rock Painting Class at the local missionary. I really am in love with this teal blue color. I keep picking it out for rocks. I added a little kitty cat and a cross in the background; with the word "prayer" on the reverse side. It was a gift to one of lady's that attended the class. I know it might be silly to think, but I do believe other animals might pray too. How can we be so sure that God only listens to our wishes and dreams?
6 responses

• Ponce De Leon, Florida
4 Nov
Here are a couple of mine. I think i may of showed them to you

• United States
4 Nov
its not showing any pictures! Are you posting them as a discussion since I don't see any there. will check it again in a minute. my baby is being sneaky!

• Ponce De Leon, Florida
4 Nov
@Daelii
hahA. Are you on.instagram by any chance they are there..

• United States
4 Nov


• Boise, Idaho
4 Nov
I'd enjoy seeing your entire 'teal series'.

• United States
5 Nov
Thank you! I will start posting more in my good things posts!

• Peoria, Arizona
4 Nov
That is very pretty and it is a good message.

• Green Bay, Wisconsin
5 Nov
You did a good job with the rock.

• United States
6 Nov
Thank you! I'm still just a general beginner!

• Green Bay, Wisconsin
6 Nov
@Daelii
It seems to be a big thing right now, painting rocks.

• United States
6 Nov
@just4him
it has become a popular new trend for the label of "kindness rocks" since a person did a school project as a social movement. They however, have been around for thousands of years. Decades modernly as recovery rocks (painted by people going through addiction treatments or supporting those going through it), prayer rocks (meditations, reminders to pray), personal garden decorations (I use to do).. etc. but I really like the kindness aspect for sharing and brightening other peoples days.


• Japan
5 Nov
thanks for sharing,it is very cute.i just loved it...


• Roseburg, Oregon
5 Nov
I really like the cat that you put on that rock. Nice.