Daily Bible Study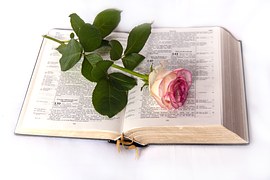 Green Bay, Wisconsin
November 5, 2017 5:21am CST
Day 17 Jeremiah 17 17:1 The sin of Judah is written with a pen of iron, and with the point of a diamond: it is graven upon the table of their heart, and upon the horns of your altars; 2 While their children remember their altars and their groves by the green trees upon the high hills. 3 O my mountain in the field, I will give thy substance and all thy treasures to the spoil, and thy high places for sin, throughout all thy borders. 4 And thou, even thyself, shalt discontinue from thine heritage that I gave thee; and I will cause thee to serve thine enemies in the land which thou know not: for ye have kindled a fire in mine anger, which shall burn forever. 5 Thus says the LORD; Cursed be the man that trusts in man, and makes flesh his arm, and whose heart departs from the LORD. 6 For he shall be like the heath in the desert, and shall not see when good comes; but shall inhabit the parched places in the wilderness, in a salt land and not inhabited. 7 Blessed is the man that trusts in the LORD, and whose hope the LORD is. 8 For he shall be as a tree planted by the waters, and that spreads out her roots by the river, and shall not see when heat comes, but her leaf shall be green; and shall not be careful in the year of drought, neither shall cease from yielding fruit. 9 The heart is deceitful above all things, and desperately wicked: who can know it? 10 I the LORD search the heart, I try the reins, even to give every man according to his ways, and according to the fruit of his doings. 11 As the partridge sits on eggs, and hatches them not; so he that gets riches, and not by right, shall leave them in the midst of his days, and at his end shall be a fool. 12 A glorious high throne from the beginning is the place of our sanctuary. 13 O LORD, the hope of Israel, all that forsake thee shall be ashamed, and they that depart from me shall be written in the earth, because they have forsaken the LORD, the fountain of living waters. 14 Heal me, O LORD, and I shall be healed; save me, and I shall be saved: for thou art my praise. 15 Behold, they say unto me, Where is the word of the LORD? Let it come now. 16 As for me, I have not hastened from being a pastor to follow thee: neither have I desired the woeful day; thou know: that which came out of my lips was right before thee. 17 Be not a terror unto me: thou art my hope in the day of evil. 18 Let them be confounded that persecute me, but let not me be confounded: let them be dismayed, but let not me be dismayed: bring upon them the day of evil, and destroy them with double destruction. 19 Thus said the LORD unto me; Go and stand in the gate of the children of the people, whereby the kings of Judah come in, and by the which they go out, and in all the gates of Jerusalem; 20 And say unto them, Hear ye the word of the LORD, ye kings of Judah, and all Judah, and all the inhabitants of Jerusalem, that enter in by these gates: 21 Thus says the LORD; Take heed to yourselves, and bear no burden on the sabbath day, nor bring it in by the gates of Jerusalem; 22 Neither carry forth a burden out of your houses on the sabbath day, neither do ye any work, but hallow ye the sabbath day, as I commanded your fathers. 23 But they obeyed not, neither inclined their ear, but made their neck stiff, that they might not hear, nor receive instruction. 24 And it shall come to pass, if ye diligently hearken unto me, says the LORD, to bring in no burden through the gates of this city on the sabbath day, but hallow the sabbath day, to do no work therein; 25 Then shall there enter into the gates of this city kings and princes sitting upon the throne of David, riding in chariots and on horses, they, and their princes, the men of Judah, and the inhabitants of Jerusalem: and this city shall remain forever. 26 And they shall come from the cities of Judah, and from the places about Jerusalem, and from the land of Benjamin, and from the plain, and from the mountains, and from the south, bringing burnt offerings, and sacrifices, and meat offerings, and incense, and bringing sacrifices of praise, unto the house of the LORD. 27 But if ye will not hearken unto me to hallow the sabbath day, and not to bear a burden, even entering in at the gates of Jerusalem on the sabbath day; then will I kindle a fire in the gates thereof, and it shall devour the palaces of Jerusalem, and it shall not be quenched. Have you been in a situation where you were given the pros and cons of consequences of your actions? On the one hand, something bad would happen if you continued the way you were going, but on the other, if you changed your ways, good would happen. Some religions would call that karma. Others call it yin and yang. Whatever you want to call it, it is the same, you are responsible for the consequences of your actions. God told Jeremiah what would happen to his people if they continued to disobey him – he would send them into exile where they would serve their enemies. However, for the person who trusted God, he would bring good to their lives, they would prosper. God knows your heart, he knows how wicked it is, and he will test everyone to give them the rewards for their actions. As Christians, you are told to examine yourselves, so the judgment of God will not come on you. Paul found the people were guilty of coming together for the Lord's Supper and partaking in an unworthy manner, bringing judgment on themselves. 1 Corinthians 11:28 But let a man examine himself, and so let him eat of that bread, and drink of that cup. 29 For he that eats and drinks unworthily, eats and drinks damnation to himself, not discerning the Lord's body. 30 For this cause many are weak and sickly among you, and many sleep. When you examine yourself, you will see where your heart is, and what you need to do to correct your behavior. David wanted to be worthy of God. He didn't want anything to come between him and God's blessing on his life. Psalm 139:23 Search me, O God, and know my heart: try me, and know my thoughts: 24 And see if there be any wicked way in me, and lead me in the way everlasting. (KJV) Your heart is where God meets with you. If your heart isn't right before him, he will be unable to bring about those blessings he longs to give you. Examine yourself today. Ask God to examine you, to shed light on any area of your life you need to change. Don't let a wicked heart, an evil thought or action, keep you from God's love and his blessings on your life. Let's pray: Father, I know I'm a sinner. Shine your light on me, examine me, show me what I need to change so I will be right before you and receive the blessings you want to give me. In Jesus' name, I pray, amen. Copyright © 5 November 2017 by Valerie Routhieaux Image courtesy of Pixabay
2 responses


• United States
5 Nov
Thank you for sharing. I read this after a summary of when things feel bleak and like you are alone, call on god for strength and guidance. So it feels like two things to reflect and pray on, that really could just be one! prayer for support to be a good vessel of god in doing the work I'm meant to do!

• Green Bay, Wisconsin
5 Nov
That's a very good analogy. We do need to pray to be a good vessel for God.