Dogs owners: A great natural way to get rid of your dog's worms.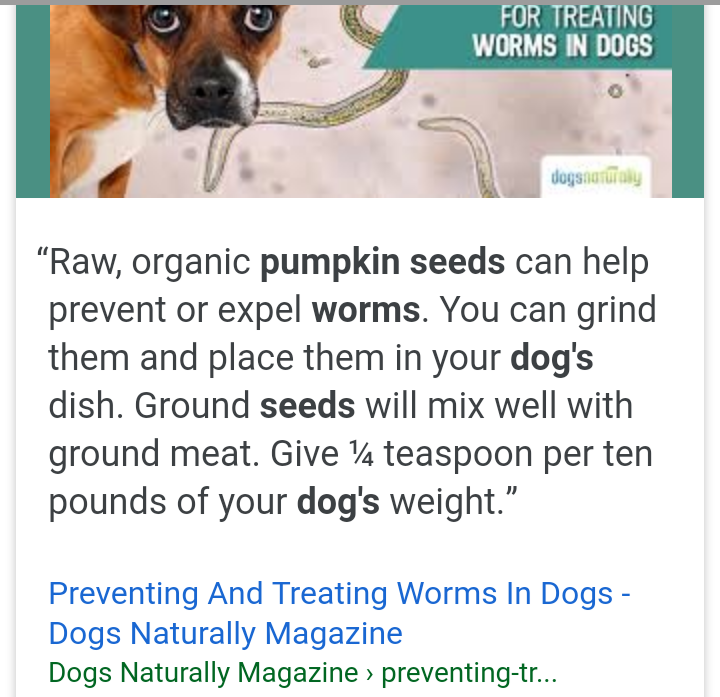 United States
November 8, 2017 10:13am CST
So far, using grinded pumpkins seeds to get rid of worms in my puppy is working really well. I had to get a stool sample for the vet this morning and it was loaded with them. I have only been adding the seeds to her food for two days. I bought small pumpkins and after getting the seeds, I followed instructions from the internet on how to remove the outer shell to use the pumpkin's "meat" for pumpkin pie. I had to wait until payday (today) to go to the vet. I wanted to do something right away. Also, I was curious if it would work.
4 responses

• United States
8 Nov
So glad the ground pumpkin seeds are working!!

• United States
8 Nov
@flpoolbum
You have an absolutely adorable puppy!!!!

• United States
9 Nov
@Corbin5
~Thank you. I loved her the moment that I saw her picture online.


• United States
8 Nov
Actually,
@NJChicaa
, it is working. The pumpkin seeds expel the worms and can prevent you dog from getting them. I had to wait until payday to go to the vet. For some people like me, miney is tight and people may not be able to afford to go to a veterinarian.

• United States
8 Nov
@flpoolbum
How do pumpkin seeds prevent dogs from ingesting worm eggs? Riddle me that.

• United States
8 Nov
@NJChicaa
~For one thing, won't let my puppy smell another dog's feces. I'm not quite sure how to safely repeal mosquitos from dogs, I 'll have to check that out for when Spring gets here. Right now it's the beginning of Winter.

19245 SharesAcademyMagzineAbout UsSupport SubscribeAcademyMagzine DNM ProductsDNM BlogThe MagazineAbout Dogs NaturallyAdvertisingWholesale AccountsFrequently Asked QuestionsCareersWrite For Dogs NaturallyContact UsMarketSubscriber LoginSubscribe Recent Pos


• Chile
8 Nov
There are meds that work.

• United States
8 Nov
@marguicha
~Not everyone can afford to go to the veterinarian to get the medicine. Besides, who knows what chemicals are in those medicines. I prefer natural solutions whenever possible.

• United States
14 Nov
That is awesome news and I like hearing about how food can naturally act as wonderful medicine !