Blockchain Partners Unocoin

India
November 13, 2017 9:37am CST
India has witnessed surge in digital currencies after demonstration in 2016; this has also made digital wallet popular With rise of Digital India, Digital Wallet, Digital Money

Blockchain
has announced a partnership with
Unocoin
, and Indian cryptocurrency exchange site, to enter the
India
n market. Unocoin is not so popular in India

before this announcement we were not even sure if unocoin was legit or scam

but blockchain is also less popular in Europe/US due to high fees

Now lets wait and get the answer, Digital market will take us to new crypto level.
5 responses

• United States
13 Nov 17
Hopefully things will work out well.

• Philippines
15 Nov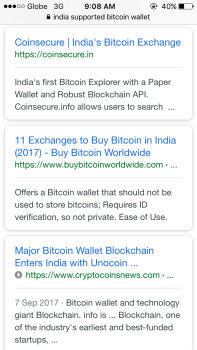 You can add single tags BLOCKCHAIN, UNOCOIN so your posts would go to "interesting discussions" of other members here and can be searched thru tag.

How about Coinsecure? I noticed they have Paper Wallet which is one of the secured/offline wallets.



• Raurkela, India
23 Nov
For this, the villages and slums have to be developed first.

• Raurkela, India
25 Nov
@yugocean
I didn't say that but villages and slums should be developed equally along with the development of the country.

• India
25 Nov
@aninditasen
I do not understand, what it have to do with bitcoin? Can you please elaborate.