Do you use sweeping robot?

November 24, 2017 7:35pm CST
It's tiring to clean the room, but it's pleasant to see clean rooms. I have a sweeping robot,but it only clean the ground. so I must do else sweeping work. So my dream is I could get a robot that can do all sweeping work. lol. Do you use sweeping robot?
6 responses

• Philippines
25 Nov
Wow! sweeping robot is amazing! I have never heard of that before not until now. Does it really cleans the floor and wipes the dust away? I wonder how it looks like and if you don't mind how much is it?

•
25 Nov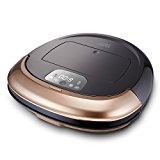 Yes,it Can schedule cleaning and select multiple path programs. About Price, it depends on the Performance, the cheapest one that I ever see is about $100.

• Philippines
25 Nov
@galaxy2017
That surely looks amazing! Technology nowadays does so much wonder. Thank you for showing the picture to me and for telling me the price info as well :)

• Kenya
25 Nov
You need to engage in some cleaning too so that you can exercise your muscles

•
25 Nov
I do. I just let the robot clean the groud,But my dream is let the robot do all of the sweeping work. lol.

• Kenya
25 Nov
@galaxy2017
hahaha. Lets hope you get a hardworking robot




•
27 Nov
Yes, It save your time, then you can do more thing.


• Haldwani, India
25 Nov

• Green Bay, Wisconsin
26 Nov
No. I'm sorry yours doesn't do all your sweeping.

•
26 Nov
You could try it, I think It is interesting!

This is one reason I use it.

• Malaysia
26 Nov
Is it the kind that works like a vacuum cleaner? I think having something like that definitely makes things easier but I still would want to mop the floor myself.