Daily Bible Study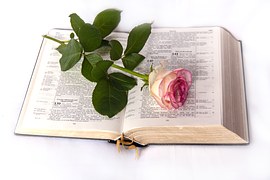 Green Bay, Wisconsin
November 25, 2017 7:54am CST
Day 36 Jeremiah 36 36:1 And it came to pass in the fourth year of Jehoiakim the son of Josiah king of Judah, that this word came unto Jeremiah from the LORD, saying, 2 Take thee a roll of a book, and write therein all the words that I have spoken unto thee against Israel, and against Judah, and against all the nations, from the day I spoke unto thee, from the days of Josiah, even unto this day. 3 It may be that the house of Judah will hear all the evil which I purpose to do unto them; that they may return every man from his evil way; that I may forgive their iniquity and their sin. 4 Then Jeremiah called Baruch the son of Neriah: and Baruch wrote from the mouth of Jeremiah all the words of the LORD, which he had spoken unto him, upon a roll of a book. 5 And Jeremiah commanded Baruch, saying, I am shut up; I cannot go into the house of the LORD: 6 Therefore go thou, and read in the roll, which thou hast written from my mouth, the words of the LORD in the ears of the people in the LORD'S house upon the fasting day: and also thou shalt read them in the ears of all Judah that come out of their cities. 7 It may be they will present their supplication before the LORD, and will return everyone from his evil way: for great is the anger and the fury that the LORD hath pronounced against this people. 8 And Baruch the son of Neriah did according to all that Jeremiah the prophet commanded him, reading in the book the words of the LORD in the LORD'S house. 9 And it came to pass in the fifth year of Jehoiakim the son of Josiah king of Judah, in the ninth month, that they proclaimed a fast before the LORD to all the people in Jerusalem, and to all the people that came from the cities of Judah unto Jerusalem. 10 Then read Baruch in the book the words of Jeremiah in the house of the LORD, in the chamber of Gemariah the son of Shaphan the scribe, in the higher court, at the entry of the new gate of the LORD'S house, in the ears of all the people. 11 When Michaiah the son of Gemariah, the son of Shaphan, had heard out of the book all the words of the LORD, 12 Then he went down into the king's house, into the scribe's chamber: and, lo, all the princes sat there, even Elishama the scribe, and Delaiah the son of Shemaiah, and Elnathan the son of Achbor, and Gemariah the son of Shaphan, and Zedekiah the son of Hananiah, and all the princes. 13 Then Michaiah declared unto them all the words that he had heard, when Baruch read the book in the ears of the people. 14 Therefore all the princes sent Jehudi the son of Nethaniah, the son of Shelemiah, the son of Cushi, unto Baruch, saying, Take in thine hand the roll wherein thou hast read in the ears of the people, and come. So Baruch the son of Neriah took the roll in his hand, and came unto them. 15 And they said unto him, Sit down now, and read it in our ears. So Baruch read it in their ears. 16 Now it came to pass, when they had heard all the words, they were afraid both one and other, and said unto Baruch, We will surely tell the king of all these words. 17 And they asked Baruch, saying, Tell us now, How didst thou write all these words at his mouth? 18 Then Baruch answered them, He pronounced all these words unto me with his mouth, and I wrote them with ink in the book. 19 Then said the princes unto Baruch, Go, hide thee, thou and Jeremiah; and let no man know where ye be. 20 And they went in to the king into the court, but they laid up the roll in the chamber of Elishama the scribe, and told all the words in the ears of the king. 21 So the king sent Jehudi to fetch the roll: and he took it out of Elishama the scribe's chamber. And Jehudi read it in the ears of the king, and in the ears of all the princes which stood beside the king. 22 Now the king sat in the winter house in the ninth month: and there was a fire on the hearth burning before him. 23 And it came to pass, that when Jehudi had read three or four leaves, he cut it with the penknife, and cast it into the fire that was on the hearth, until all the roll was consumed in the fire that was on the hearth. 24 Yet they were not afraid, nor rent their garments, neither the king, nor any of his servants that heard all these words. 25 Nevertheless Elnathan and Delaiah and Gemariah had made intercession to the king that he would not burn the roll: but he would not hear them. 26 But the king commanded Jerahmeel the son of Hammelech, and Seraiah the son of Azriel, and Shelemiah the son of Abdeel, to take Baruch the scribe and Jeremiah the prophet: but the LORD hid them. 27 Then the word of the LORD came to Jeremiah, after that the king had burned the roll, and the words which Baruch wrote at the mouth of Jeremiah, saying, 28 Take thee again another roll, and write in it all the former words that were in the first roll, which Jehoiakim the king of Judah hath burned. 29 And thou shalt say to Jehoiakim king of Judah, Thus says the LORD; Thou hast burned this roll, saying, Why hast thou written therein, saying, The king of Babylon shall certainly come and destroy this land, and shall cause to cease from thence man and beast? 30 Therefore thus says the LORD of Jehoiakim king of Judah; He shall have none to sit upon the throne of David: and his dead body shall be cast out in the day to the heat, and in the night to the frost. 31 And I will punish him and his seed and his servants for their iniquity; and I will bring upon them, and upon the inhabitants of Jerusalem, and upon the men of Judah, all the evil that I have pronounced against them; but they hearkened not. 32 Then took Jeremiah another roll, and gave it to Baruch the scribe, the son of Neriah; who wrote therein from the mouth of Jeremiah all the words of the book which Jehoiakim king of Judah had burned in the fire: and there were added besides unto them many like words. When people don't like something, they ban it. Many years ago a committee banned many classic books from school libraries and told school administrations, teachers, and parents their children were not to read any of the books on the list. God told Jeremiah to write down all the words he had spoken to Jeremiah regarding what he would do to Judah and Israel because of their disobedience. The people who heard the words became fearful of what God would do, yet when they brought the roll before the king, he burned it in the fire. He wasn't afraid of what God would do to him. Yet, God would not sit back and allow King Jehoiakim to treat God's Word in such a manner, but told him there would be no more of his seed to sit on the throne of David. God has kept his Word. There is no king on Israel's throne, but a president and prime minister govern Israel today. God had also told David that if his seed departed from the Word of God, there would not be any seed to sit on his throne. Psalm 132:11 The LORD hath sworn in truth unto David; he will not turn from it; Of the fruit of thy body will I set upon thy throne. 12 If thy children will keep my covenant and my testimony that I shall teach them, their children shall also sit upon thy throne for evermore. (KJV) Have you noticed how the small word 'if' can be the biggest word in the dictionary. It holds more weight than any other word. God promised there would always be a son of David to sit on the throne of David, if. Jehoiakim broke covenant with God, by casting his word to the ground, burning it in the fire, and not heeding anything God said, and God said his seed would no longer sit on David's throne. As Christians, if you forsake God, and turn your back on him, you too will lose your salvation. Hebrews 6:4 For it is impossible for those who were once enlightened, and have tasted of the heavenly gift, and were made partakers of the Holy Ghost, 5 And have tasted the good word of God, and the powers of the world to come, 6 If they shall fall away, to renew them again unto repentance; seeing they crucify to themselves the Son of God afresh, and put him to an open shame. (KJV) Matthew 12:31 Wherefore I say unto you, All manner of sin and blasphemy shall be forgiven unto men: but the blasphemy against the Holy Ghost shall not be forgiven unto men. 32 And whosoever speaks a word against the Son of man, it shall be forgiven him: but whosoever speaks against the Holy Ghost, it shall not be forgiven him, neither in this world, neither in the world to come. What is the sin of blasphemy against the Holy Spirit? Denying that Jesus is the Son of God. It is the Holy Spirit who brings you to salvation through the death, burial, and resurrection of Jesus Christ. When you accept him as Savior and Lord, God accepts you as his child. However, if after you accepted him, you deny your salvation, and the work of the Holy Spirit, your salvation is lost to you. That is not the same as backsliding, and living for the pleasures of this world for a season. You know the truth, even though you do not act on it. You have not lost your salvation, and you can repent and return to the God who loves you more than you can imagine. Jehoiakim, did the unthinkable. He denied God and his Word when he burned the scroll in the fire, and in so doing, God told him he would be childless, and no more children would sit on David's throne, as it is to this day. 2 Chronicles 7:12 And the LORD appeared to Solomon by night, and said unto him, I have heard thy prayer, and have chosen this place to myself for a house of sacrifice. 13 If I shut up heaven that there be no rain, or if I command the locusts to devour the land, or if I send pestilence among my people; 14 If my people, which are called by my name, shall humble themselves, and pray, and seek my face, and turn from their wicked ways; then will I hear from heaven, and will forgive their sin, and will heal their land. 15 Now mine eyes shall be open, and mine ears attent unto the prayer that is made in this place. 16 For now have I chosen and sanctified this house, that my name may be there forever: and mine eyes and mine heart shall be there perpetually. 17 And as for thee, if thou wilt walk before me, as David thy father walked, and do according to all that I have commanded thee, and shalt observe my statutes and my judgments; 18 Then will I stablish the throne of thy kingdom, according as I have covenanted with David thy father, saying, There shall not fail thee a man to be ruler in Israel. 19 But if ye turn away, and forsake my statutes and my commandments, which I have set before you, and shall go and serve other gods, and worship them; 20 Then will I pluck them up by the roots out of my land which I have given them; and this house, which I have sanctified for my name, will I cast out of my sight, and will make it to be a proverb and a byword among all nations. 21 And this house, which is high, shall be an astonishment to everyone that passes by it; so that he shall say, Why hath the LORD done thus unto this land, and unto this house? 22 And it shall be answered, Because they forsook the LORD God of their fathers, which brought them forth out of the land of Egypt, and laid hold on other gods, and worshipped them, and served them: therefore hath he brought all this evil upon them. Don't let God deny you before men, but walk in the ways of God, and do right, then you will see the face of your Savior when you pass from this life into eternity. Let's Pray: Father, your Word is precious to me. I love you with all my heart, soul, mind, and strength. Help me always to set you before my face, doing what you called me to do, never wavering in my faith and love for you. In Jesus' name, I pray, amen. Copyright © 25 November 2017 by Valerie Routhieaux Image courtesy of Pixabay
4 responses

• Wausau, Wisconsin
25 Nov

• Green Bay, Wisconsin
26 Nov
Have a blessed day today.

•
25 Nov
I repeated the prayer and said AMEN.


• Green Bay, Wisconsin
25 Nov

• London, England
31 Jan
Father, your Word is precious to me. I love you with all my heart, soul, mind, and strength. Help me always to set you before my face, doing what you called me to do, never wavering in my faith and love for you. In Jesus' name, I pray, amen.