Why Christmas So Early?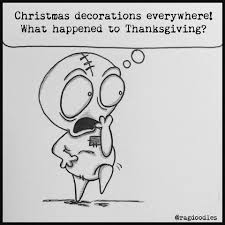 5 responses

• Agate, Colorado
26 Nov
My fiance is always complaining that he feels stores go from Halloween to Christmas. I guess store wise would be because more people would spend money for Christmas than Thanksgiving with decorations.

• Los Angeles, California
26 Nov
Christmas is now starting before Halloween.

• San Jose, California
18 Aug
THanksgiving is less of a consumer holiday

• Colombo, Sri Lanka
28 Nov
Same here... I think this happens because many companies take X'mas as a good marketing strategy.

•
27 Nov
Here in our country we dont have thanks giving celebration. Just xmas.