Gratitude Challenge Day #947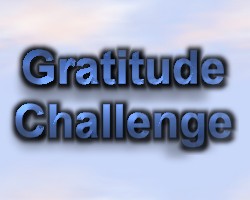 United States
November 29, 2017 12:38am CST
Hi, everyone. You didn't think I would go to bed without doing the Gratitude Challenge, did you? Okay, okay, I've done that countless times, but not tonight. Sooo, here is my gratitude list for Tuesday, November 29th... 1. I'm finished with my writing for the night. 2. I watched Rudolph earlier, and then WWE Smackdown. 3. The pain in my hand went down a lot, so the Aloe is helping. 4. The hot chocolate I had earlier. I wanted something sweet. Oh, and the leftover turkey I decided to have for dinner. 5. I found out Joey McIntyre (of NKOTB) is gonna be on Disney's Magical Holiday Celebration this Thursday. 6. I still have more cough medicine left, which is good because I'm gonna need it before I lay down. Okay, it's time for me to wrap things up and get some rest. I cannot keep staying up super late, so I'm doing myself a favor tonight. You all have a good night (or morning) and take care. Photo Credit: I made this graphic using PhotoImpact 6.
5 responses

• United States
29 Nov
Yay for Rudolph. I missed it but will see it before season ends.. goodnight

• United States
3 Dec
@tammys85
i do. Could rent it now ondemand but waiting for freeform or abc

• United States
5 Dec
@Courtlynn
Right. I don't blame you. Local channels may play 'em too.


•
29 Nov
I hope that cough will be gone soon.

• Green Bay, Wisconsin
30 Nov
I still need to watch Rudolph. I have it on the DVR. I've been busy writing, and that comes before TV. Lots of good things for you. Charlie Brown Christmas is also on tonight before Disney's Magical Holiday Celebration, so you might want to watch that too. I hope you had a good night's sleep. Have a great day.

• United States
3 Dec
Oh I understand putting writing before TV. I hope you can watch it soon. Thanks for letting me know! I did tune into it, and then the celebration. I wanted to see Joey McIntyre perform, but I also enjoyed the lighting of the castles at different Disney parks. It was sooo pretty (and so was Joey, haha let me stop lol).

• Green Bay, Wisconsin
4 Dec
@tammys85
It's still on my DVR so I'll get to all my Christmas specials still to watch. I should check the line-up for tonight.

• Kenya
29 Nov
I am in awe of you. How do I feel good enough to start the gratitude challenge?

• Roseburg, Oregon
29 Nov
I hope you are feeling better tomorrow.