Have yourself a merry little christmas...

November 29, 2017 9:10am CST
This is what I plan to do! Shall I stuff my face..the faces of my beautiful family and friends? Well we have no snow here but shall we whine and dine all day long to local christmas carols....ahh yes! The only presents I want is the presence of my maker and all of those I hold so there. I hope you all find joy in this special holiday's preparation... Can you all share with me some of the things that you or your family does for Christmas time? :D
5 responses

• United States
29 Nov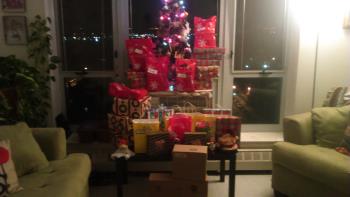 I open gifts and enjoy the mood. I am not big on eating so that is never on my mind. I would not mind a drink though. Oh I will show you my little tree. But I am changing it today for a big one. I am waiting on a few more gifts.

•
29 Nov
OH MY I ABSOLUTELY LOVE IT!! I'm freaking out a bit...I'm assuming everyone gathers around to open their gifts.. I'm the opposite I'm not a fan of drinking, I'm usually too happy! Hope you have a lovely Christmas!

•
29 Nov
Stay at home and eat together.

•
29 Nov
Oh so togtherness..you're very blessed to have this

• Jacksonville, Florida
29 Nov
Unfortunately... Most of mine are spent alone these days. I do have a few friends that send me gifts to remind me they are thinking of me, but no one is with me at Christmas time. I miss those days. So enjoy yours to the fullest. You never know when things will change.

•
30 Nov
Oh my... I hope you get company soon and I thank you so much for your advice


• India
4 Dec
Merry Christmas And A Happy New Year. May the new year bring happiness, prosperity and good health to everyone. Enjoy you Christmas and New Year.