Moon Lovers: Scarlet Heart Ryeo (2016 K-Drama TV Series)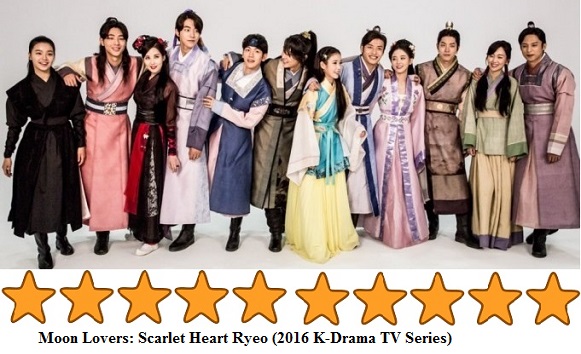 Austin, Texas
December 1, 2017 3:10pm CST
Finished up another K-drama TV series. Got another notch on my belt. It's not an easy feat to complete a series. Sometimes you start a series, then the video uploads disappear from the site where you were watching the show. You have to go on a hunt all over the Internet to try to find the rest of the episodes. Sometimes you can't find a full screen so you have to watch the uploads that have that small picture of the video in the corner. It's a nuisance and a mess! But if you have a K-drama obsession like I do, you do whatever it takes to find all of the episodes to complete the series! So the series I just finished watching is "Moon Lovers: Scarlet Heart Ryeo" (2016). At the beginning of each episode there is a message to the effect that the script writers took some artistic liberties with the records of history. Since I don't know that much about Korean history during the time when Korea was called Goryeo, a Korean kingdom established in 918 by King Taejo, I could not separate fact from fiction. All I know is that the story line had me hooked from the start and I had to follow through to know the conclusion of the matter. This is not really a review. This is just my takeaway observations and thoughts about how the cruel world need not have been so cruel and terrible to live in. This is FACT not FICTION: Regardless of what part of the world you live in … siblings that CAN get along with each other and work together can accomplish a whole lot more than siblings who CAN'T get along. Like I said, I don't know the true historical account. But let's say for the sake of argument, the TV series is TRUE. That would mean that King Taejo was like the Biblical Jacob. He had a bunch of sons and only one daughter. In many cultures around the world, a couple would give their eyeteeth just to have one son. This man had like 10 to 14 sons. Ten to fourteen viril strong healthy men with sound minds; each one gifted with a useful talent or talents, very resourceful, and most of them with nice personalities. Most of them. Yeah well you know how it is with family. It's usually at least one JERK who is selfish, greedy, and can't be trusted. But the others siblings figure a way to work around them and … (choke!) … love them anyway. After all, they are blood. Most families only have one child like that. Heaven have to help the family that might have 2 or 3 of them cause when they get together to start scheming and conniving for what they consider their "fair share", ain't nobody safe!! At the end of the series, I felt compelled to ask King Taejo, who passed away and even though he had designated a successor to the throne, that didn't stop the siblings from fighting over the crown. QUESTION: Mr. King Sir! You can manage to unite 3 kingdoms under one rule but you can't teach and train your own sons to have each others' backs, look out for each other, protect each other, and take care of each other AND lead the united kingdom on to greater prosperity and glory? You would think that a man so blessed with that many sons could find a way to stop them from killing each other! Just sayin'. And the daughter? She was as ruthless and greedy for power as some of the brothers! Had he asked for my advice, I could have told the king what "might" have helped him to reign in his sons' ambitions and possibly get them all on the same page working for the good of the nation and not for the seat of power. He should have gotten rid of the mothers. Banish them! Only allow limited restricted supervised visits. Those ladies were not mothers. They were meddlers and manipulators! Most sons will be loyal and devoted to their mothers and many a ruthless mother knows that that loyalty and devotion is a powerful weapon and can be used to achieve unspeakable things! Whew! Made for a good plot though. * * * RATING: This series gets 10 out of 5 stars just for being able to get that many talented actors and actresses under one roof. They all played characters that you got to know. And I'll bet while they were making the TV series, they all got along. Sorry. No behind the scenes gossip to share. Found an excellent write-up about this show in the IBT (International Business Times, India Edition).

Moon Lovers: Scarlet Heart Ryeo cast members have teased season 2 and urged their fans to show love for Prince Wang So, Hae Soo and rest of the characters in the future.
2 responses

• United States
2 Dec 17
I've never watched Korean Drama TV, though I know people who love it. From you description, it sounds very interesting. I love the clothes they are wearing.

• Austin, Texas
2 Dec 17
The clothes I like but I myself know I could never wear them and feel comfortable. The hairpins the women wear are soooo beautiful. They could be treasures.

• Philippines
2 Dec 17
well, I have seen a couple of historical Korean dramas and the bad guys usually scheme and kill for the throne - that is why i do not like them

but i watched this for Lee Jun Ki.. i was quite mad at the ending, i really hope they have a season 2 that is set in the present.. it would be so awesome

• Austin, Texas
2 Dec 17
Lee Jun Ki is definitely the reason I watched the series. You were mad at the ending? So was I!! GRRR …!!! But you know what? In real life, endings can be very disappointing and happy endings almost seem like they are just the stuff of fairy tales. As for always killing each other? Not much difference with the fight over the crown in England. I have to say England because I haven't seen many other dramas about the monarchy in other countries. But one time (sorry I can't remember the movie) there was a scene in a movie and the noble men wanted a certain person on the throne. They literally had a board with all the names of the family members and started crossing them out with "X" marks. They were saying "Well! If we want this person to take the throne, then we have to kill this one, this one, this one and ..." I'm like: 'Unholy crap! These are human beings y'all are talking about not toys for you to get rid of because you don't want to play with them!' So I don't see the fight over the Korean monarchy as being any different from any other country. It's one of the reasons I don't like monarchies though. I'm for elected officials. Vote him in. If they don't serve the people, kick 'em out! And I ABHOR elected officials who get into public office and REFUSE TO LEAVE!! I mean they need to face reality. People don't mind good leaders. Who has ever asked for a good leader to LEAVE AND GO HOME or JUST GO?

• Philippines
3 Dec 17
@cmoneyspinner

I know, history rarely ends well, i guess this drama just wanted to stick a bit to the history. Which is why i demand a second season to at least give them another chance to live and be happy, in the future where there is no more monarchy stuff. i guess no matter what the government structure is, monarchy, democracy, etc.. there are still tons of evil people who would silence or hurt anyone who got in their way


• Austin, Texas
4 Dec 17
@lady1993
- I really wouldn't mind a second season. It would be interesting to see the creativity of the writers and how they would rewrite some more of history for "artistic purposes". Some of the characters that I really liked though got killed off. It's sad there's no way to bring them back. Part of me would love a second season. The other part of me wonders how they could possibly pull it off.