Am I the one to blame?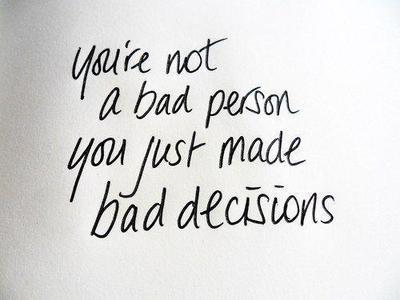 Davao, Philippines
December 2, 2017 2:28am CST
After all the revelation, I think I was the one to blame. Maybe because I'm too upright about my opinion and my negative thoughts as what the boyfriend always said to me. I feel bad about it. After the confusion about this Wishlist thing. We come up with a group of 3 because we didn't like the situation they are creating. Sounds like we are outcast because they don't listen to us. We are the rebel I should say. And with this, it creates a not so good relationship with our partners, especially Hana's relationship with her boyfriend. She confessed to me earlier that she is becoming someone else. She becomes the gossip girl and she hates it. I think I am to blame partly because I let her and I supply her with some negative thoughts too. She is young and studying to become a Dentist one day. Now, I don't know where to stand. I don't want to lose her because she was a good friend to me. I I am a little bit stress about this. Photo grabbed from google.com
2 responses

• Philippines
2 Dec
One of the rules we have to observe to be powerful is to stay away from negative people. I think you should stop being negative because it will always bring people down. Hope you can still fix that and hope you won't lose a friend.

• Davao, Philippines
2 Dec
I mean, she is okay with me, what I'm trying to say is I want to keep her it's not that she will go away from me. She said, she will stay with me and I am the one who wants her to be away from me because of her situation, at least for the moment.

• Philippines
2 Dec
@JustBhem
Just don't fee her any negative ideas anymore. If she's reading the book I'm reading, she'll run away from you.

• Davao, Philippines
2 Dec
@toniganzon
Okay, I think this is a good thought. That is why I share most of my problems here because I am sure can find good ways. Thanks, Toni.