Twenty six days of Books. Day 3- C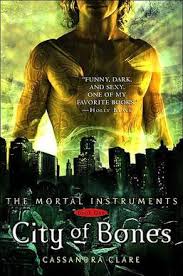 Ponce De Leon, Florida
December 2, 2017 10:51am CST
Today is the third installment of my Twenty Six Days of books series. Today's letter is C. And today's book is "City of Bones" by Cassandra Clare. City of Bones is another YA book, and also the first of the Mortal Instruments series of books. It is also the only book in the series that I remember reading. Teenage Clary Fray witnesses a murder while out in New York City. After witnessing the murder she becomes involved with a group called The Shadow Hunters and Jace. Through out the book Clary starts to figure out little tidbits of herself and her mother. It's a good read, since it is a YA book it's one that reads fairly easily. If you're into sci fi or vampires, it's one you'll probably like. Photo is courtesy of Google..
2 responses

• Los Angeles, California
2 Dec
I saw the movie The Mortal Instruments: City of Bones and a few episodes of the Shadowhunters: Mortal Instruments TV series.

• Ponce De Leon, Florida
2 Dec
I saw a little bit of the movie. It wasn't really enough to keep me engaged. The book was good. Not the best, but good.

• Daytona Beach, Florida
2 Dec
Thanks for sharing. Sounds interesting.