Rumpelstiltskin --- German Fairy Tales (6)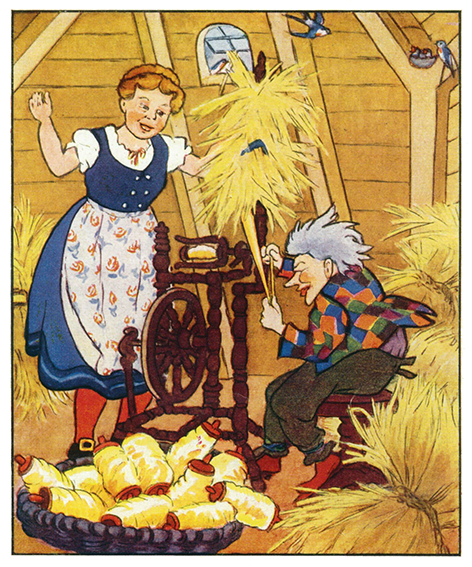 Uzbekistan
December 3, 2017 11:01am CST
The story in a nutshell: A miller tells the king that his daughter can spin straw into gold. The king sends for her, shuts her into a tower and orders her to spin gold for three nights or be executed. A dwarf appears in her room and spins the gold for her, first for a necklace, then for a ring and in the third night for her first-born child. The king sees all the gold and he marries her. When her first child is born, the dwarf demands it, but when he hears the queen's laments, gives her a chance. If she's able to find out his name in three days, he'll refrain from taking the child. With the help of a servant she indeed finds out the name whereupon the dwarf tears himself in two. The dwarf Rumpelstiltskin belongs to a parallel world which is also inhabited by fairies, elves, gnomes and other humanoid creatures which fascinates people of the 21st century as much as it did the people two hundred years ago. The dwarves of the fairy tales are often helpful but take offense easily and have a quick temper. They're also known to swap their children with children from humans. These are the so-called changelings. The female dwarves are traditionally good at spinning and weaving and the male ones at forging. So it's rather surprising that Rumpelstiltskin excels at spinning, a female occupation. He's seen as a male witch. He's an ambiguous character in other ways, too. He's a wild one living in the forest, but he's diligent, honest and true to his word. When the queen is desperate, he shows mercy and gives her the chance to win back her child. The other characters are straightforward. The miller risks his daughter's life for the chance of advancement. How desperate must his and his family's situation be to tell the king such a blatant lie? Does he believe in and hope for supernatural help or does he expect to lose her, such losing another eater at his table? But the pact with Rumpelstiltskin is a pact with the devil. The miller's daughter becomes rich in the end - but at what price? She's sold her soul and has lost her child. The king is the embodiment of greed who thinks, "Even if she is only a miller's daughter, I will not find a richer woman in the whole world." He doesn't see her as a human being at all but only as a source of wealth he can exploit. If she can't deliver, she'll be executed, if she delivers, he'll marry her. Marriage becomes a humiliation here. The fairy tale  Rumpelstiltskin can also be read as a portrayal of class struggle. The power of language is another topic in this fairy tale. If one can name things and people, one has power over them. Knowledge of a true name allows one to magically affect a person or being. This motif can also be found in other fairy tales. --- P.S. If you're interested in more interpretations of German fairy tales, you can click on the green bar at the top of the site.
9 responses

• United States
3 Dec
I know we did not ever do such a complete analization of any small story in school. I am sure we did discuss some of the morality involved, but your post is great. I look forward to reading more fairy story posts from you.

•
3 Dec
I do not remember much about this fairy tale - perhaps it wasn't one of my favorites. In the modern world you will find many with the miller's character - using their kids for advancement. It is even harder to see mothers selling their daughters to the highest bidder.


• United States
3 Dec
It is interesting that more kid-friendly versions of original fairy tales have been altered to be more kid-friendly and with happier endings. I never knew that poor Rumpelstiltskin tore himself in two. The story read to us had Rumpelstiltskin becoming very, very angry, stomping his feet, and running off to never be seen again.

• United States
3 Dec
@MALUSE
They sure did sugar-coat those fairy tales. Mr. Disney sugar-coated big time!

• United States
3 Dec
I always thought she should not have married the King, because as you said he only cares for riches. Great Post.


• Philippines
4 Dec
Love all the analogies that you wrote. Rumpelstiltskin stomped his feet until he vanished - that is how it ended in the Western version of this fairy tale. I certainly like that he tore himself into two better.

• Bunbury, Australia
4 Dec
Rumpelstiltskin is a great name. No wonder he didn't think the queen would discover it.

• United States
3 Dec
I love fairy tales

I really enjoyed reading this discussion. You really did your research.