New type of paint for Kindness Rocks!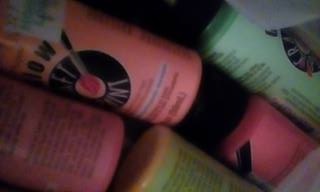 United States
December 4, 2017 9:17pm CST
I saw this online and wanted to buy it. It was a 1.37 for an ad-don item on Amazon. I saved it and was going to order it; only to go back later after payday to find they had increased the price to over 6 dollars a bottle and it was still an addon item! I really couldn't see paying that much! Luckily, my husband didn't mind checking out a craft store. I found one bottle and it was tagged 2.50 a bottle. I figured my girls could both pick out a color and they did, only to say it was a little over a dollar a bottle... Well, at that price.. We got one of each glow in the dark colors plus a few extras... I can't wait to use them and see how it works! Have you used glow in the dark paint!? Any tips?
3 responses


•
5 Dec
No. Haven't tried painting my nails.

• United States
5 Dec
I do paint my nails, but this is actually craft paint I use on rocks. :)

• Daytona Beach, Florida
5 Dec
I have heard of such paint but I have never used it. Let us know how it works.

• United States
5 Dec
will do! I'm fixing to wash/prep some rocks for tonight!