Questions boil up

Moses Lake, Washington
December 5, 2017 2:29pm CST
I'm in the midst of writing a short story. Often this mean questions pop out in my working brain. Hubby swears up and down that the dogs in particular can tell that he can't see. Therefore they do things- they get away with stuff cause he can't tell exactly what they are up to. Do animals have a sense of humor? I know that they are not robots. One day I found a hen had laid an egg under a bush. I have a hard time getting onto my knees, let alone getting up. I called Leah, had her sit so that I could lean on her as I got onto the ground. I then told her to continue to sit while I grabbed hold of her as I hoisted back up. Leah then moved into a kind of sit/lie down position. I started to tell her to cut it out then realized that she had moved to the right way that would help me best. She'd thought that out on her own. Good girl! Sally pup has shown us that she knows that the cane can be a tool. The cane can get her toy from under the couch, once she tells us dumb humans that she needs the help. Just questions about what we humans consider not as smart as us 'superiors.' On I go with the story...
6 responses

• United States
5 Dec
I know when I ask Roscoe where Lambie is, he may not leave that minute but within 5 lmabie will be laying at my feet. He is so smart and has a lot of personality too!!

• Moses Lake, Washington
5 Dec
@BelleStarr
What kind of pooch is Roscoe? He sounds like a character.

• United States
5 Dec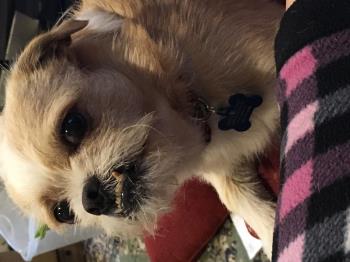 @sallypup
lol your guess is as good as mine, I think I am going to get his DNA done so I know.

• East Tawas, Michigan
5 Dec


• Bunbury, Australia
5 Dec
Even Herc knew that the chain was the what was holding his gate shut. He'd nuzzle at it to try to get it to open.

• Moses Lake, Washington
6 Dec
@JudyEv
I saw a video a while ago that showed a horse going around his stable, unlatching all the stalls and letting everyone out.

• Bunbury, Australia
6 Dec
@sallypup
I've seen that one too. I just think it's great that he took care of all his friends and let them all out.


• Moses Lake, Washington
6 Dec

• Boise, Idaho
5 Dec
I don't think animals have humor in their bundle of traits. It's all instinctual. Some are awnry but not looking to make us laugh.


• Boise, Idaho
6 Dec

• East Tawas, Michigan
5 Dec
Dogs play dumb, but they really aren't! Kobe knows when Jay is at home, then he's a perfect animal. When I'm here by myself, Kobe does as he pleases, until Jay's truck turns into the driveway!

They are very bright, that's for sure!

• Moses Lake, Washington
5 Dec
@Kobesbuddy
Uh oh. Dad's home! That's what Kobe thinks when he hears that truck.

• East Tawas, Michigan
5 Dec
@sallypup
His doctor Jekyll-Mr. Hyde personality



• United States
7 Dec
Humans are naturally egotistical and as a society want to dominate/ control the world. When in reality we are just another animal and our traits are shared by others for being clever, perceptive, compassionate, etc.