Morning inspiration 12/6/17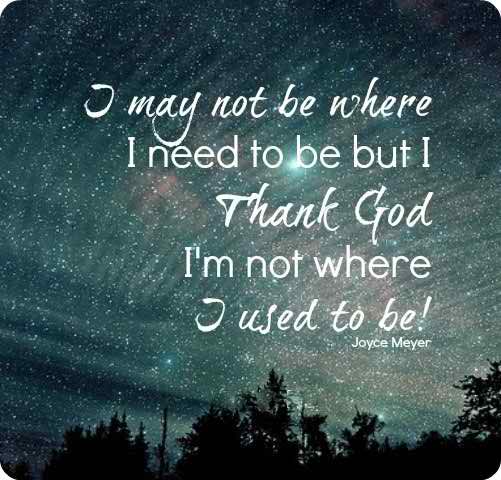 Philippines
December 5, 2017 5:08pm CST
I like this daily inspiration. Yes I may not be where I need to be right now but at least I'm not where I used to be. I have hopes and dreams that are not yet happening but I should just wait for them. I compare my life before I already made some significant changes in my life. My life is far better now than many years ago. I should be thankful to God for that.


9 responses

• Portugal
5 Dec
I glad you are better now and I Hope you will be even better in a near future.

• Philippines
5 Dec
Yes I forgot to appreciate how better I am now than my life before. I really hope so

• Portugal
5 Dec
@averygirl72
wish you the best dear


• Malaysia
6 Dec
Very inspiring. Sometimes we only realize how much we've been blessed when we think about all the hard times and challenges we had gone through in the past.

• Philippines
6 Dec
We always think how far more we have to go without considering how far already we've been through. We are always blessed by God even in the past which we sometimes forget

• Bunbury, Australia
5 Dec
That's a great quote. As long as you're going forward rather than back you'll eventually get to where you need to be.

• Philippines
5 Dec
That's very good explanation thanks

•
5 Dec
That has come to my mind lately too, stops me from whining about how awful life is lately

.

• Philippines
5 Dec
Yeah it's stops me to think of whining too and how awful my life is. I still made some progress. Time will lead me to that time I feel so happy and contented

•
6 Dec
@averygirl72
The day you give birth to your first baby you will feel so happy... Then 18 yrs later, you will begin to curse life

!


• India
6 Dec
Yes of course we should be thankful

• Philippines
6 Dec
We should be thankful and consider the things we've accomplished so far even if we are not yet in the place we wanted to be

• Banks, Oregon
6 Dec
Amen my friend. I always watch Joyce Meyer about everyday.

• Philippines
6 Dec
Thank you. I love listening to Joyce Meyer too

• United States
5 Dec
That is very true about me for sure. I love reading that.

• Philippines
5 Dec
It's a good reminder. Thanks you like it

• United States
5 Dec
A wonderful bit of inspiration you have shared with us. It is always important to take note of how far we have come.

• Philippines
5 Dec
We tend to forget that somehow our life change over the years. Although not completely perfect but still we achieve something great in our life as time pass by

• Rochester, New York
6 Dec
Instead of waiting for them to come to fruitation, work for those hopes and dreams to come true.

• Philippines
6 Dec
Just keep on working and praying and God will bring us to the place we want to be