Another man became rich selling evening snacks on his cart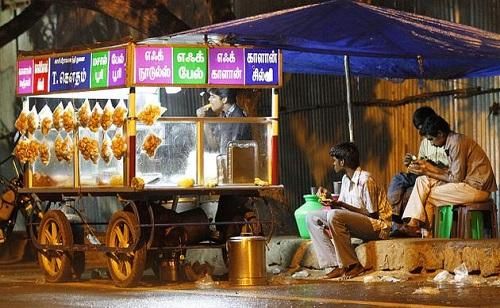 Hyderabad, India
December 6, 2017 11:14pm CST
He comes daily along with his Cart. He carries a glas cylinder, a big basin, a kerosene stove, a matchbox, some papers, two aluminum containers full of mixed Gram flour (in water), a small packet of Baking Soda, a bag of Green Chilis. He lights the stove and heats the oil in one container. When it becomes hot, he dips each Green Chili and puts them in the oil. After some time when it swells, he removes it and transfers it to a separate plate. The Oil container looks very clean and good. He uses always a fresh oil right in front of his customers. Within an hour there will be some people eagerly waiting for their share of Bajjis made of Green chilis. This is a roaring business in the street I am living in. Of course, there are many such vendors but people prefer to purchase from this man only. The secret of his business lies in giving some chily powder extra which is spilled over the Mirchis when they are given to customers in a paper. The chili powder never tastes hot or spicy. Moreover, it increases the taste of these Mirchi Bajjis. He serves 4 pieces for Rs.25/-. Actually, he incurs an expenditure of Rs.4/- in preparing them. He goes to the wholesaler in the market and purchases the Green Chilis. He got such earnings that he could purchase two flats and a house in his native district. He could give good education to his children and could send them to U.S . He celebrated the marriage of his daughter in a decent manner though not in a grand manner. Are you not surprised to know about this? There are many ways to earn money and it is only the determination, dedication, and hard work that fetches money. It does not accumulate on its own. What do you say friends?
5 responses



• China
8 Dec
@shivamani10
Sounds delicious,have you bought some from them?

• Malaysia
7 Dec
they are clever to earn money

• Hyderabad, India
7 Dec
He made a lot of money just in 5 years.


• Hyderabad, India
7 Dec
He is an expert. Just by selling that single variety he could make good money.

• United States
7 Dec
I love that he found a way to make it. I am blessed to live where Iive because cooking around that dirt is not allowed. I could care less what he put in that chicken it's not edible to me. I think if he cares about his business he would find a better place to cook. that it not nice. I would starve till I got home.

• Hyderabad, India
7 Dec
Oh..This is not his photo. He will look even nicer...I think you will forget eating and will decide to starve for the whole life.You should appreciate him for his preparation. On a single variety, he earns a lot of money. He works very hard. It is only determination and hard work that made him rich. The taste of his snacks will be unique though there are many who prepare and sell that variety.