Welcome to the Hotel Can't-Afford-Ya

United States
December 23, 2017 11:55am CST
One of the music groups I belong to on Facebook had a post recently that appeared on social media courtesy of a record shop owner in Oakland. It was a list of music trends that need to stop in 2018. Some of them were funny (a great rant about "low-res pixelated artwork on reissues"); some were controversial (a record shop owner complaining about people who "own more than 1,000 records" [JJ, I think he was talking about you], claiming they'd "never" get to listen to all of them [obviously ignoring that a lot of albums, especially older ones, were barely 30 minutes long, and many of them in the collection have already been listened to]). And there was this gem among the trends that must stop in 2018: REISSUES OF ANY RECORD THAT SOLD MORE THAN 1 MILLION COPIES BETWEEN 1964 AND 1989. In the words of Warren Zevon in "Dirty Little Religion," "Can I get an 'amen' from the choir?" Over on Persona Paper I had a semi-regular series that can best be titled "Hatin' on Henley," where I pointed out a lot of the things that this incredibly gifted singer and songwriter did and/or said that made it difficult to see through the "horse hockey" (thank you, Colonel Potter) to his talent. Well, here I go again. Like just about everybody else (32 million others, in total), I bought Hotel California when it was released in 1976. At that time, the list price of the album was $6.98. Early in 1977 the record label (Warner, who owned Asylum) bumped the price to $7.98. Heck, it still sold out the wazoo...because it was a good album. (Add to this list things like Rumours by Fleetwood Mac, Night Moves by Bob Seger, Silk Degrees by Boz Scaggs, Fly Like an Eagle by Steve Miller, etc. etc., and you see it was an exceptional time for very popular albums that covered the gamut of music styles.) Well, what do you know, the Eagles — the band that gave us the $100 tickets for a rock concert — are at it again. The 40th anniversary version of Hotel California has been released, with prices starting at $20 and going all the way up to $140 for various "packages" (including T-shirts, vinyl, etc.). When this was announced on Facebook one fan referred to it as, "Welcome to the Hotel Can't-Afford-Ya." Tell me about it. At what point does it simply become too much? I mean, we're talking about a 40-year-old album that most FM/classic rock fans can sing backwards in their sleep. Here's the sole Randy Meisner song on the album, the last song he sang lead on before leaving the Eagles:

"No copyright infringement is intended"
5 responses

• United States
23 Dec
Now, I would argue some albums need a reissue, regardless of how many it sold...but that's only in the case of albums that could use being remastered, not just reissued. HC was done fine when it came out...a reissue of it is all about the money, and not about the music, in my opinion. I'm sure you agree.

• United States
23 Dec
I completely agree. A lot of Elton John's early albums sound..."muddy," I guess is the best way to describe it, and I'd gladly take remastered versions of that. But a "super-deluxe $250 yellow-vinyl copy of Goodbye Yellow Brick Road" with no remastering (or a third album of demos [I iposted the demo version of "Holiday Inn" the other day because I love that extra verse])? No thank you. Elton got enough of my money in the 70s. (And 80s. And 90s. And 00s.)

• United States
23 Dec
@FourWalls
I'd like a remaster of 'Don't Shoot Me' from Elton...or maybe I need an original press, because my record club issue sounds like crap

• United States
23 Dec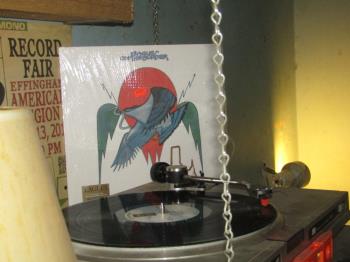 @FourWalls
I did buy one Eagles reissue, but it was because all the originals I was finding were too trashed for me and I was wanting to complete my collection (up to The Long Run)

• Los Angeles, California
23 Dec
Time to find an eight track copy at a garage sale.

• United States
23 Dec
Can't-Afford-Ya is right. We have some 40-year-old albums here in a pile in my husband's office. I need to look through those things.

• United States
24 Dec
what i love is the reissues with maybe one or 2 two new songs they pulled out of the archives (zep and kiss i'm looking at you) so if you're a big fan of course you have to buy it again.. that record shop guy's only complaining cause he knows we'll never sell them to him..


• United States
23 Dec
Eagles were my favorites there.