Are you still eating out?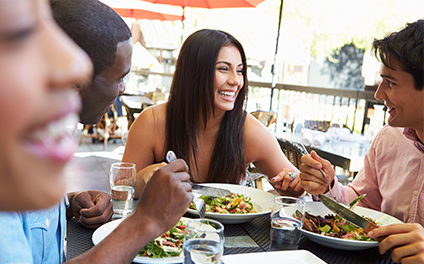 Indonesia
10 responses

• Redlands, California
27 Dec
We eat out all the time, just bring it home because sister and brother know I hate people. They eat out by themselves sometimes. They both not big on people either but like to get away every now and then and feel bad they cannot take me anywhere.



• Indonesia
27 Dec
That is a good way to avoid wasting money eating out.

• Switzerland
27 Dec
@yanzalong
It's a tradition to eat at home for the holiday here. People spend a lot of money to buy special food, but we prepare the food at home.

• Indonesia
27 Dec
@LadyDuck
Must be interesting to get together at home to celebrate something, especially special food is served.


• Guangdong, China
27 Dec
family gatherings will celebrate and eat out.

• Indonesia
27 Dec
It is a good idea to go out once a year to celebrate it.

• Guangdong, China
28 Dec
@yanzalong
sure it is. It will brighten our normal days.

• China
27 Dec
Most people choose to get together and go to restaurant in holidays which brings lots of business opportunities to restaurant

• Bunbury, Australia
28 Dec
People like to eat out when they are on holidays and restaurant owners to make the most of these opportunities.

• India
27 Dec
I do sometimes..but i prefer home made food

• United States
27 Dec
I have not eaten out other than a sandwich shop

• Malaysia
27 Dec
holiday season, people are packed in shopping malls and restaurants, price hike up too, cut throat

•
5 Oct
@yanzalong
I eat out for certain occasions and eat at my friend's house but I mostly eat at home because I prefer to eat at home.

• Waikoloa, Hawaii
29 Dec
i cannot eat a Full meal beacuse im poor i never tried to eat in restaurant