Movie Review : There Will Be Blood (2007) ~ American Dream?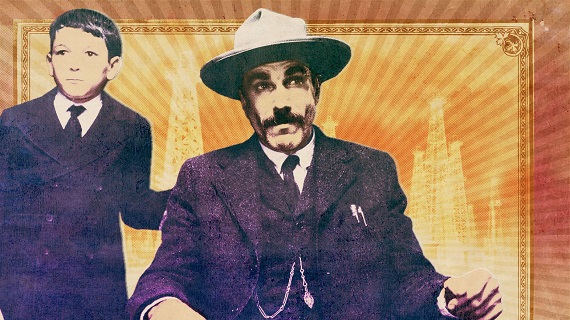 Austin, Texas
December 27, 2017 4:47pm CST
I am a loyal fan of Daniel Day-Lewis (Sir Daniel Michael Blake Day-Lewis). I don't always care for the movies he stars in but I do know that he gives 200% when he gives a performance. I saw the previews for this movie "There Will Be Blood" when it was released. But as is our custom, we waited until it found its way to the video rental store and then we checked it out. The previews looked so exciting so I was looking forward to watching it. This film won 2 Oscars. ~ Best Performance by an Actor in a Leading Role: Daniel Day-Lewis ~ Best Achievement in Cinematography: Robert Elswit I HATED THIS MOVIE!!! If I met any of those people in real life I would run away from them! I only liked 2 characters: the adopted son (of Daniel Day Lewis) and the girl he fell in love with. As for Daniel Day Lewis' character and that preacher he was always butting heads with? I HATED THEIR GUTS!! So was there blood? Oh yeah! HATED IT!! I lifted this quote from an article and it sums it up better than anything I could say or write: "The movie itself is a submergence into the depths of American desperation—for money, salvation, family, something to call your own. It's a hole that you can fall down and never crawl out of." Whew! Thank goodness it was just a movie. Relax. If you were pursuing the American dream … carry on!
https://www.theringer.com/movies/2017/12/22/16809404/there-will-be-blood-paul-thomas-anderson-10-years-daniel-day-lewis
4 responses

• Los Angeles, California
28 Dec
I thought the movie wildly overrated and the director admitted ripping off The Treasure of the Sierra Madre.

• Austin, Texas
29 Dec
The Treasure of the Sierra Madre? There was something oddly familiar about this film. You just pointed it out for me.

• Philippines
27 Dec
He gets into his character and we can feel their emotions come alive. This is an old movie but is worth watching again. His role probably was base on the ruthless oil men and robber barons like John Rockefeller who became America's captains of industries.

• Austin, Texas
29 Dec
For sure he definitely got into character. I really didn't ever want his character in real life. He was scary!

• United States
27 Dec
this was a good movie there.He is a fine actor.He also have a new one out.He was going to retire.Guess change his mind.

• Austin, Texas
27 Dec
It was a really good movie! People like him don't retire. They always just say they'll retire. Then somebody shows them an irresistible script and they're like: "OK! I'll come back and do this ... just this once!"



• Portugal
28 Dec
I haven't seen the movie yet and I think I won't see it after reading your review