Favorite Bruce Who Songs: Don't Think Twice, It's Alright (#10)

United States
December 31, 2017 7:01pm CST
How did it come to this? I mention "Wendell Gee" by R.E.M., and the next thing you know I see a comment from @teamfreak16 saying, "We demand a top ten Bruce Who countdown!!" JJ purchased Fables of the Reconstruction of the Fables (depending on which side of the album you look at), and part of the "packing" cardboard was a discarded cover for an album by "Bruce Who." We found out who Who was (ha, see what I did there?), but now I have to count down ten songs! So here are ten favorites by either people named Bruce or bands with Who in their name. #10: Don't Think Twice, It's Alright - The Wonder Who? And if you were wondering who Bruce Who was, you're really gonna wonder who the Wonder Who? were! Actually, there's no real mystery: the Wonder Who was really Frankie Valli & the Four Seasons. In 1965 they recorded a version of Bob Dylan's song "Don't Think Twice, It's Alright" under the pseudonym the Wonder Who? (yes, question mark included, to the delight of ? And the Mysterians). It was intended to be a joke, a parody of sorts, mocking Valli's rather high voice. He sang the entire song in an exaggerated falsetto. But here's where the joke became a joke: released by their record label (I had the 45 on Phillips) with the pseudonym, their version of "Don't Think Twice, It's Alright" hit the Billboard top 15! In fact, peaking at #12, it landed just three spots behind where the Peter, Paul, and Mary version peaked. This was not included in the play/film about the Four Seasons, Jersey Boys, which is too bad. It was a big hit for them, even if it was as big a joke as this countdown's premise. Don't Think Twice, It's Alright Written by Bob Dylan Recorded by the Wonder Who? Released as a single, 1965 So I'll just say fare thee well:

4 responses

• Los Angeles, California
1 Jan
As long as the Bruce isn't from New Jersey.

• Los Angeles, California
1 Jan

• United States
1 Jan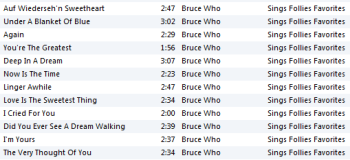 @JohnRoberts
And not one Bruce Who song was heard...probably


• United States
1 Jan
Actually no, it was not a 'discarded cover', it was a mint unopened album

• United States
1 Jan
Really? Wow. I've had people use old album covers as packing before (someone used Everybody Loves a Nut for packing an album I'd bought, which is really weird to be discarded because (a) the LP was by Johnny Cash and (b) the album artwork was by Jack Davis!), but never a "bonus album" (ha ha ha) before.

• United States
1 Jan
@FourWalls
Yeah, really weird...there was the Bruce Who and a mint copy of Celi Bee and the Buzzy Bunch...so I wound up with three albums for $4.95 + $3.12 shipping

• United States
1 Jan
@JolietJake
— oh, wow, the Buzzy Bunch!!! Here's a story of a man named Buzzy.....


• Bunbury, Australia
1 Jan
This is such a great song. I love the lyrics in this.

• Denver, Colorado
1 Jan
Bruce Who has probably now gotten more publicity the last couple days here on MyLot than he ever got anywhere else!


• United States
1 Jan
And
you're
getting your wish!