A Royal visit .... technical difficulties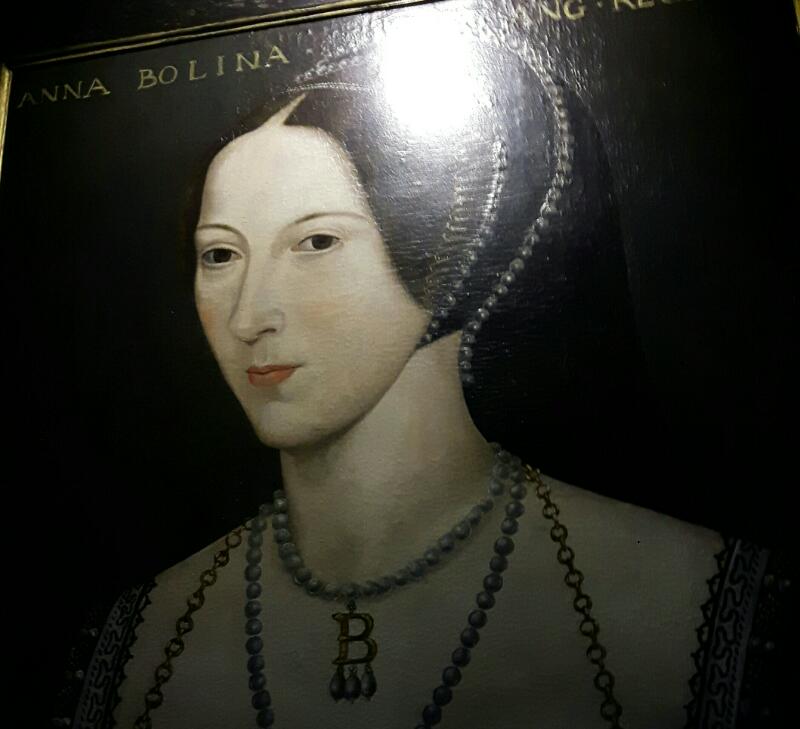 Alicante, Spain
January 2, 2018 2:07am CST
Just before christmas, I was working in England, looking after an elderly lady, and we went on a day visit to Hever castle, the home of Ann Boleyn... We've been several times before,  as they have some magnificent landscaped gardens, which are wheelchair friendly so we often go to see them. While looking online to see what christmassy events were taking place near us, I saw that Hever castle was doing an exhibition of christmas past..., so I read a bit more and it sounded very interesting, so we decided to go. It was lovely, when we got there, quite a lot of the staff were dressed in period costumes,  they had several big fire pits and braziers in the grounds too, which was great because it was a very cold and frosty morning... We had picked quite a good day as there were not too many other people there, which meant, our lady and ourselves got to have a good clear look at the room layouts and decorations.  We saw the silver clock Henry gave Ann on their wedding day... and some of her linens on display in glass cabinets. We also saw her prayer book, and some china.... it was very nice. As you can imagine it was a feast for the eyes... and of course I took a lot of photos... 213.. lol...Some are a bit dark because for preservation purposes ..., you are not allowed to use the flash. I have made a slideshow which I hope will give you an idea of what we saw... don't  worry...I didn't use all 213 photos... just a few lol.. click on the link below Sadly our lady could not go upstairs in the wheelchair, but they have a film presentation of all the  upstairs rooms,  you can sit and watch it downstairs on a tablet, so we watched it together, in front of a huge log fire,  it was very interesting.  Aferwards we called in at the café,  for a coffee and a snack, which was very nice also... we then went and had a quick look outside at a visiting victorian carousel..., we went and found the christmas tree in the garden,  and warmed ourselves in front of one of the braziers... which were very effective and warmed us up quickly... then we made our way back to the car and home... but it was a great visit...

10 responses


• Alicante, Spain
2 Jan 18
thanks anna
@LadyDuck
I've just edited it ... it's there now....


• Switzerland
2 Jan 18

• Alicante, Spain
3 Jan 18



• Alicante, Spain
3 Jan 18
Sorry about that julia...
@Juliaacv
I did have problems yesterday... but I've re done it and think it's working properly now... pleae let me know..ok..


• Canada
3 Jan 18
@sueznewz2
Oh that was wonderful, I so enjoyed that. I'm glad that you got the link going, it was well worth the wait.


• Alicante, Spain
4 Jan 18

• Canada
8 Jan 18
Loved your video, The windows took my breath away, I loved the carvings too. Thanks for the share. Sounds like a good day out...

• Alicante, Spain
8 Jan 18
you're welcome
@PainsOnSlate
I'm glad you enjoyed it... yes there were sssooo many nice things to see..but I think the stained glass windows were my favourite...



• United States
3 Jan 18
I recognized that picture from Hever the minute I saw it, I love Hever, I can really feel Anne when I am in that upstairs bedroom. Always go to the cafe too!!

• Alicante, Spain
3 Jan 18
I'm glad you've been there and enjoy it as much as I do ....
@BelleStarr




• Alicante, Spain
3 Jan 18
Thanks marlina
@marlina
I did have a lot of trouble with it yesterday... but Its working now...


• Los Angeles, California
2 Jan 18
Hever Castle is the kind of place I would like to visit.

• Alicante, Spain
3 Jan 18
It is
@JohnRoberts
... there is so much to see



• Bunbury, Australia
2 Jan 18
That sounds a really lovely visit and the slideshow was really interesting. Thanks for sharing it with us.

• Alicante, Spain
4 Jan 18
I'm glad you like it...

@JudyEv

•
2 Jan 18
That must have been quite interesting. I love when they dress up in costumes.