@rebelann1949 Look here!!!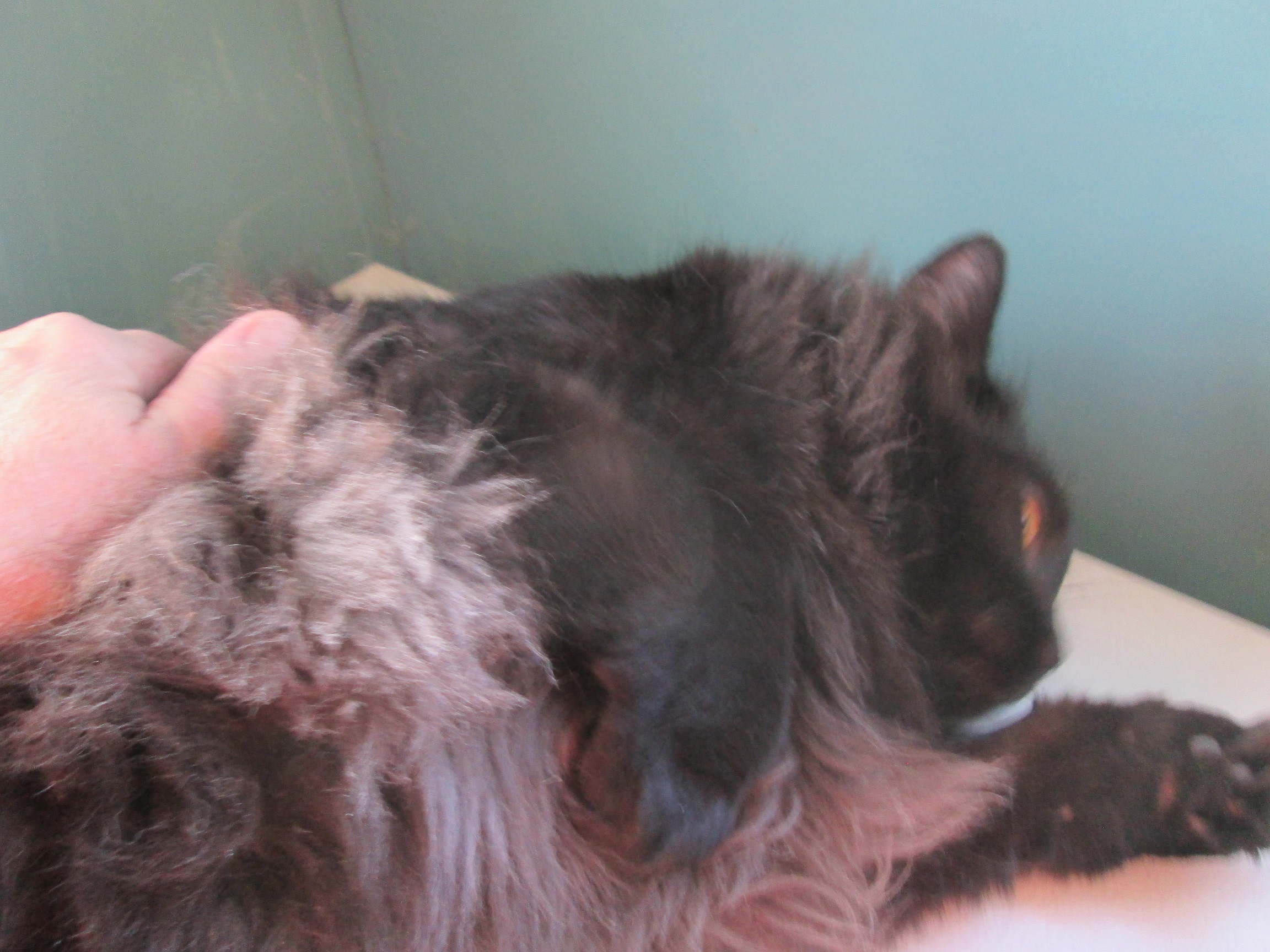 Moses Lake, Washington
January 3, 2018 1:41pm CST
I am certified nuts now and its for a fantastic reason. Thank you for your loving concern, Ms. @rebelann. I was on the phone arranging water exercise classes and I heard a noise out on the deck. I looked out and Sonny James kitty looked back at me. My heart screamed. I feel sorry for the exercise instructor that heard me holler. I opened the door and Sonny walked in like he had not been gone for over a week. Sonny Jaimie. He is purring and rubbing against me and won't let me out of his sight. I think he has lost a bit of weight. But he is clean and looks good otherwise. He is so timid with other humans so I do not understand how he came to my deck. Got to love miracles. I wonder if my neighbor activist went up and managed to get him and then deposited him on my deck? I would think she would not let him go until he was in the house. I have so deeply missed this guy. My cats and I are so close to each other emotionally. I am bowled over that he is again safe with me. He had better not ask to go outside for a long time and maybe never!!!!!
9 responses


• Moses Lake, Washington
3 Jan
@jaboUK
My sweet neighbor lady won't admit to having gone and gotten him so I don't know. Yesterday I happened on a trail that went up through the back of my property, up through snow and ice. It was a cat sized trail that headed out into a field and then over to a road some ways off. I then got on Facebook and asked neighbors if they'd seen a big black cat and a lady said she had- up behind a barn. Not sure if the lady neighbor got him and brought him back or what. Sonny looks like a black bear cub when he outside so he is pretty noticeable.

• Moses Lake, Washington
3 Jan
@jaboUK
You're right. Cause he could have taken off again though he looked calm. Kind of spooky calm.

• Pittsburgh, Pennsylvania
3 Jan
I am so relieved!!!! You are just such a super kitty mommy hat he could not take being without you another minute! I kept thinking of you when I first read your post yesterday and worrying about how cold it is Give your kitty a big hug from Onyx and me, and Onyx sends him a great big Meow from the king of meows! Hugs to you for being so loving to your cats!

• Moses Lake, Washington
3 Jan
@Marty1
My cats and I share a special bond. Years ago my Will Tweedy kitty saved me from burning the house down. He yelled in my ear until I got up and found that I had left a pan to burn up on the stove. Sure good to hear from you and dear Onyx.

• Pittsburgh, Pennsylvania
4 Jan
@sallypup
Sounds like you have a great relationship. It must be because you are such a great kitty mommy! I don't know if onyx would do the same, But he does meow in my ear to get me up for no reason at all

• Moses Lake, Washington
4 Jan
@Marty1
I took Sonny to the doc this morning cause he is supposed to be on the special food for his health. Doc says he is going on 11 not 8. I am terrible at math. Otherwise he is a huge healthy guy- I had a horrible time lugging in 17 pounds of kitty plus the carrier. I just needed the doc to tell me he was in good shape after his being gone so long.

• United States
3 Jan
Yep, he knows who loves him to pieces and who takes the best care of him. Cats are not allowed to roam here, and if they do, the owner gets a big fat ticket, same with dog owners. So glad your beautiful kitty is back!!!

• Moses Lake, Washington
3 Jan
@Corbin5
I love your area of the world. Its so with it when it comes to animals. I am in a rural pocket. Plus even in town cats are not valued. He could have been just anywhere. My busy brain wondered if he'd fallen in the icy creek. Yesterday I was scouting the weedy hillside and sage brush for him cause he could have been lying there for all I knew.

• United States
3 Jan
@sallypup
I am just so glad he is back. He is such a wonderful kitty cat who is so loved by you. I pray he is always safe.

• Los Angeles, California
3 Jan
What a fur ball! He's your buddy.

• Moses Lake, Washington
3 Jan
@JohnRoberts
You are right. He has three coats. And a huge loving heart.


• Moses Lake, Washington
3 Jan
@shaggin
Poor kitty cats. They just want shelter and at times pay for that need. I feel for your Dad when he found those poor beasties. I bet he helped them out.

• El Paso, Texas
3 Jan


YEEEEHAAAAA, Now that's some really good news. May I interject that he never be allowed out again? As for how he got back, could it be the fireworks had him hiding and now that that's all over he felt it was safe to come home? Cats have an amazing homing system. For Sonny James





..... but don't forget he's sneaky, I once had one who was like that, I'll have to post a photo of her when I find it, she too was black.

• Moses Lake, Washington
3 Jan
Interesting question about the fireworks. We actually only had maybe two blasts. Hubby added it up. He thinks Sonny was gone about eight days. It will always be a problem about the cats not sneaking out but for sure now I am hyper paranoid about them roaming around outside. (Can't control free wheeling Saia, though.)

• El Paso, Texas
3 Jan
Yeah, the wild one will probably always be a problem but I'm hoping Sonny J. won't want to go back outside
@sallypup
Do you suppose he took up residence with Saia?

• Moses Lake, Washington
4 Jan
@rebelann
That's a good one. Sonny slapped Saia quite soon after he got home. Saia slapped him about half an hour ago.


• Boise, Idaho
4 Jan
Maybe he got locked in a garage or something. Glad he is home and okay. He probably won't want to go out for awhile.

• Moses Lake, Washington
4 Jan
@celticeagle
Good question. He is not a people cat. Hubby came in from being outside and Sonny hissed at him. He knows him yet he hissed cause he is super nervous now.

• Boise, Idaho
4 Jan
@sallypup
......Do you know his history/background. Our little Crystal kitty was that way when she first came to us. Now she acts like a diva or something. Still hisses at the two males if they get too friendly with her. She doesn't take any crap off of them. Sort of funny. SHe is tiny compared to them.

• Moses Lake, Washington
4 Jan
@celticeagle
Sonny was a kitten in a bad way when I first saw him. I thought it was 8 or so years ago but the Vet says more toward 10! Anyway, he looked like a little black rat who needed desperately to get out of the snow and ice. I managed to entice him into the house by dangling a string. We went from there, ended up at a Vets cause he had pneumonia. Sonny has always crammed himself under things like our bed or into dark cupboards when he gets super scared. I think he somehow or other ended up under a neighbor's cruddy house at first then made his way under our parked car and then I spotted him. Tangled web for a kitten but he grew once I got a hold of him.


• El Paso, Texas
3 Jan
I think your sweet boy is a Norwegian Forest Cat, just read the link then take a look at the pictures of the cats, the black one is just like Sonny J.

From Wikipedia, the free encyclopedia Jump to: navigation, search Norwegian Forest cat Female Norwegian Forest cat Other names Norsk skogkatt or Norsk skaukatt or Norsk granskogskatte Origin Norway Breed standards CFA standard FIFe standard TICA standard A

• Moses Lake, Washington
4 Jan
@rebelann
I remember you telling me this before. My daughter thinks this, too. Its interesting cause he just showed up when he was a kitten and needing to be free of snow and ice so we have no idea on where he came from. Somebody lost a treasure.

• El Paso, Texas
4 Jan
Somebody didn't pay attention or else just let the poor lil tyke run loose outside
@sallypup
he's so much better off with you.

• Moses Lake, Washington
4 Jan
@rebelann
Thanks. First time I saw Sonny I thought a rat was running around on the front walk then I realized it was a kitten trying to take shelter under our car. He didn't grow all that fur until he was about 2 years old then a little more after that before the fur on his toes started up.