Ordered his Valentines gift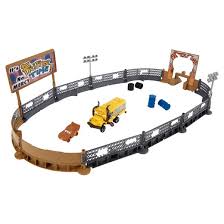 Wausau, Wisconsin
February 1, 2018 1:15pm CST
So I spent $14 in my earnings on Mercari to order my sons Valentine's gift. He has been wanting the Disney Cars 3 Crazy 8 Crashers track so I found one cheap on my sales site and ordered it. I am excited. I got it nearly 50% off because they sell for like $30 in the store. He will be a happy boy when he gets it for sure. The track looks like the one in the picture.

8 responses

• Staten Island, New York
1 Feb
You give kids gifts on V Day? Will you give hubby anything? So far I have not gotten hubby anything for V Day. Maybe I should start doing that. But then again he never gets me anything, with the exception of maybe flowers.

• Wausau, Wisconsin
4 Feb
i make hubby dinner and hes happy lol. yes i always get my son something. just how i am

• Staten Island, New York
4 Feb
@carebear29
Your hubby doesn't like going out to eat on V Day?

• Wausau, Wisconsin
6 Feb

• Onaway, Michigan
1 Feb
I am sure he will be very glad when he gets it.

• Onaway, Michigan
4 Feb

• Defuniak Springs, Florida
1 Feb
What are you getting the hubby for valentines day?

• Defuniak Springs, Florida
1 Feb

• United States
4 Feb
I love shopping where I can find a really good deal on something wanted. Hope he enjoys it

• Wausau, Wisconsin
4 Feb


• Green Bay, Wisconsin
1 Feb

• United States
1 Feb
Glad you could get it for him