Is English Female?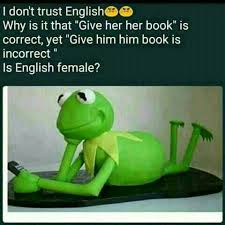 Kenya
8 responses

• Chile
18 Feb
All I know is that computers are male


•
18 Feb
I think English is an international language.

• Kenya
18 Feb
yes it is but it can be hard to comprehend some things

•
18 Feb
@aureliah
You have a point there The Fly One.



• India
25 Feb
@aurelian
English is a language.The word for "language" in my language Hindi is "Bhasha".And "Bhasha"is feminine.So I think "English"is feminine.

• Peoria, Arizona
18 Feb
Seeing as it is confusing, irrational, and stubborn. Pretty sure English is not a human being. Just a very difficult convoluted language.


• Kenya
18 Feb



• Kenya
18 Feb
That is not what I mean. Refer to the photo attached.

• Kenya
18 Feb
@LadyDuck
I think he just started his classes.