Should you give the homeless money?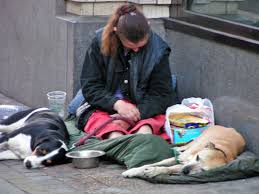 Northampton, England
February 20, 2018 5:32pm CST
A homeless guy was found dead at the foot of the Houses of Parliament in London last week. Homeless people die all the time in our big cities , of course, but the leader of the opposition party, Jeremy Corbyn, couldn't resist having ago at the government over their policies creating poverty and a large increase of the homeless in the U.K, up 100% since the Tories took power with their austerity policies in 2010. The government made it harder for unemployed and sick people to pay their rent from welfare by cutting it and so people are losing the roof over their heads, especially mentally ill people. Londoners were not too bothered about the homeless guy dying and one less beggar to hassle them. Homeless people commit a lot of crime, take a lot of drugs, and make a lot of mess after they drink themselves into oblivion. But Corbyn had misjudged the sympathy for this guy as he turned out to be a twice deported Portuguese national - so an illegal immigrant - and had committed pedophile offences in Portugal, why they were keen to see the back of him. Foreign born homeless is nothing new in the big cities, 40% of London's homeless born aboard, many Eastern Europeans. With open borders it makes sense they would be the bulk of the down and outs as the people least likely to get help with welfare and housing when falling on hard times. A lot of the foreign homeless are professional beggars, picking a spot in London where they knew they will make at least £100 a day, many of these people from Romania, who also operate as pickpockets and cash machine scammers. It's very annoying to think European Union allows the free movement of these criminals and beggars, one of my reasons to vote BREXIT. Some of the homeless actually work in London and because rents are so high they sleep in cardboard cities by night to save on accommodation costs, many coming knowing their fete. In my hometown most homeless are not from my town, British born and always drunk or out of their heads on drugs. In recent years they started to sleep on the main high streets of Britain and not too bothered about being visible. The shame of being homeless has gone. They just don't care and sleep high on crystal all day. I admire the general public who want to help them by dropping some coins in the hat but they know the homeless will spend it on drugs. I mean seriously, what do they expect them to do with the money? Save up for a Deposit on an apartment? Buy a nice suit for job interviews? Buy them food and coffee guys but NEVER give them cash. I have seen them pick up their booty and put it in the pokie machines down the street or back the horses.
10 responses

• Philippines
20 Feb
There was a time back when I was still very young, I gave a homeless some money and she went to buy a bottle of rum. I've stopped giving them cash. I give them food instead.

• Philippines
20 Feb


• Northampton, England
20 Feb

• Philippines
21 Feb
@thedevilinme
That's better. When I happen to see them around I would do the same. Give them foods.

• United States
12 Aug
I do not give money to the homeless and for many of the reasons you stated. It sometimes makes me wonder why so many Christians do as well since it defies the old adage about giving a man a fish or teaching him to fish. Some people are just too easily heartbroken about certain things.

• Bucharest, Romania
12 Aug
I see you mentioned that they are from Romania. Most of them are gypsies to be honest. They embarrassed this country everywhere in Europe.

• Pamplona, Spain
3 Jun
I give food at a store where they every so often do a round of collecting food for these kind of people and it only goes to them and them only. I feel that it gets to them at least and not in some stranger´s pocket. I also made friend with one and she does really need money and spends it on her two daughters she has become very ill sometimes sitting out there in all weathers and often goes hungry.


• Chile
21 Feb
I don´t give homeless or beggars money, not after I learned that they will not spend it in food or shelter. Here babies are lent so that women can get more money. No one minds if the baby is exposed to the rain or the cold.

• Philippines
20 Feb
I also never give money to homeless people. I rather give them food to eat. The government should make ome ways for hem to have a job to start with even with small income and shelter. But some abused their being homeless like fir instance, the government provides them a low cost housing. They will havr the hiuse to be rented by other people and they will squat somewhere else again.