What could go wrong with arming teachers?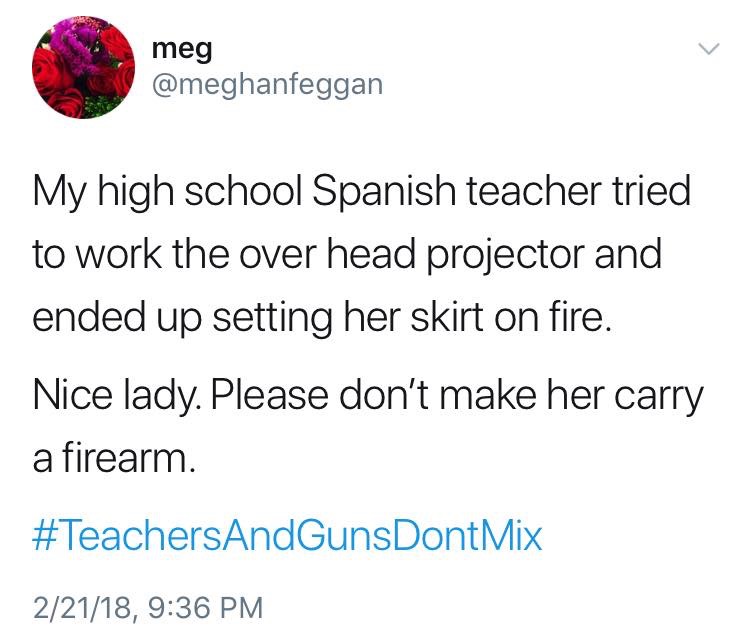 United States
February 23, 2018 6:48am CST
Why NOT give weapons to teachers to protect their students? Sounds like a great idea, right? Well maybe it does if you live in the South or in one of the states where concealed carry is a fact of daily life. Believe it or not, there are MANY states in the US where you CANNOT walk around with a gun on you at all times. (and somehow we manage to survive each day!) Teachers have degrees in education or in specific subject areas. They don't have training in marksmanship, defense, security, etc. This idea that "teachers should be armed" is INSANE and downright dangerous. It is also laughable. If the Board of Education (any one in general) can't find the money to update textbooks, repair buildings, give teachers raises, improve technology, etc where is it going to get the money for weapons, ammunition, and training?
3 responses

• United States
23 Feb
I do not think that this is going to pass.They do not want it.


• Pittsburgh, Pennsylvania
23 Feb
I totally agree it is insane to arm a teacher. It is not fair to the teachers when their main goal is to educate youngsters not protect them. If i had kids i would be FURIOUS and take my kids out if a school if the teachers were armed.


• Genova, Italy
23 Feb
Unfortunately, in recent years, society has worsened! The new generations, many of them, are bad guys! (Also guilty of their parents!) In Italy, there have been several episodes of students who have attacked and in one case, even the teacher has been scarred!

I do not mean that teachers must be armed. But for them, nowadays, adequate protection would be necessary!